Ichikawa Ebizô IX as Sukeroku, from the series Flowers of the Modern Stage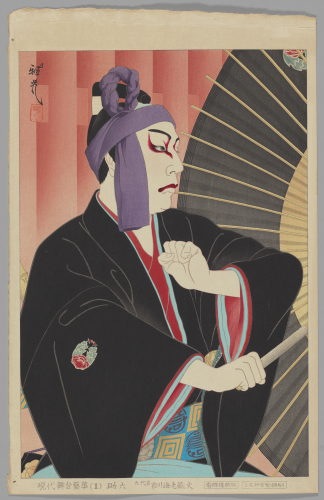 Ōta Masamitsu, Ichikawa Ebizô IX as Sukeroku, from the series Flowers of the Modern Stage, 1954, color woodblock print on paper, Gift of Mrs. Fay Kramer, © unknown, research required, 91.48.1A
This work is not currently on view.
Title

Ichikawa Ebizô IX as Sukeroku, from the series Flowers of the Modern Stage

Related Titles

Series Title: Gendai butai geika (Flowers of the Modern Stage)

display title: Ichikawa Ebizô IX as Sukeroku

original language: 現代舞台藝花(1) 助六 九代目市川海老蔵丈

Artist

Related People

Date

1954

Medium

color woodblock print on paper

Dimensions (H x W x D)

image: 14 7/8 in x 10 1/16 in; sheet: 16 15/16 in x 10 3/4 in

Inscriptions & Markings

signature:

title: Gendai butai geika (1) Sukeroku Kyûdaime Ichikaw Ebizô 現代舞台藝花(1) 助六 九代目市川海老蔵丈 (Flowers of the Modern Stage: Ichikawa Ebizô IX as Sukeroku), printed in black, bottom margin at left Language: Japanese

Collection Area

Asian Art; Graphic Arts

Category

Prints

Japanese Modern Prints

Object Type

relief print

Culture

Japanese

Credit Line

Gift of Mrs. Fay Kramer

Accession Number

91.48.1A

Copyright

© unknown, research required

Terms
The actor known to posterity as Ichikawa Danjûrô XI (1909-1965) held the stage name of Ebizô IX from May of 1940 through April of 1962. A strikingly handsome man, he specialized in male lead roles. Sukeroku, a perennially popular character in kabuki theater, is one of the "Great Eighteen Plays" associated with the Ichikawa line of actors. The protagonist, Sukeroku, appears to be a low-life ruffian (who has nevertheless won the heart of the courtesan Agemaki), but in fact he is a samurai warrior in disguise. His heirloom sword has been stolen, so he provokes fights with one and all who visit the brothel district, in hopes of recovering the weapon. Sukeroku's costume invariably includes a purple headband, which the artist has prominently featured in this image.