Storage Bags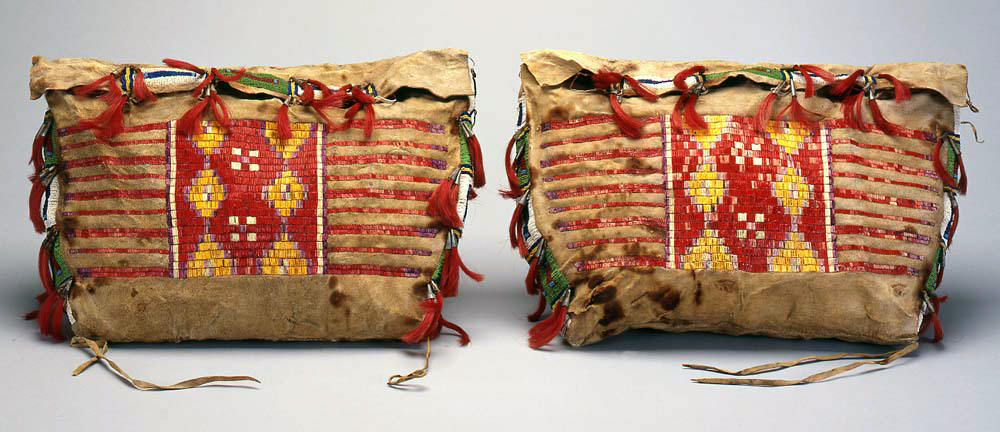 Lakota artist, Storage Bags, 1890, leather, porcupine quills, glass beads, metal cones, and dyed horsehair, The Elizabeth Cole Butler Collection, no known copyright restrictions, 87.88.95A,B
This work is not currently on view.
Title

Storage Bags

Artist

Date

1890

Medium

leather, porcupine quills, glass beads, metal cones, and dyed horsehair

Dimensions (H x W x D)

each: 14 in x 24 in

Collection Area

Native American Art

Category

Plains

Animal Equipment

Object Type

saddle bag

Cultural Group

Lakota

Credit Line

The Elizabeth Cole Butler Collection

Accession Number

87.88.95A,B

Copyright

no known copyright restrictions

Terms
After the introduction of horses, Plains Indian peoples became much more mobile. Horses allowed them to stay on the move, following the buffalo herds. By necessity, everything families owned had to be portable; they needed a variety of containers to pack belongings when the camp was moved. This pair of Lakota storage bags might have been mounted on saddle bags and would have held anything from clothing to food. They are made from tanned leather and decorated with porcupine quill embroidery across the front, with a beaded strip along each side and across the top flap. Tin cones and dyed horsehair further accent the beaded strips.