High Top Moccasins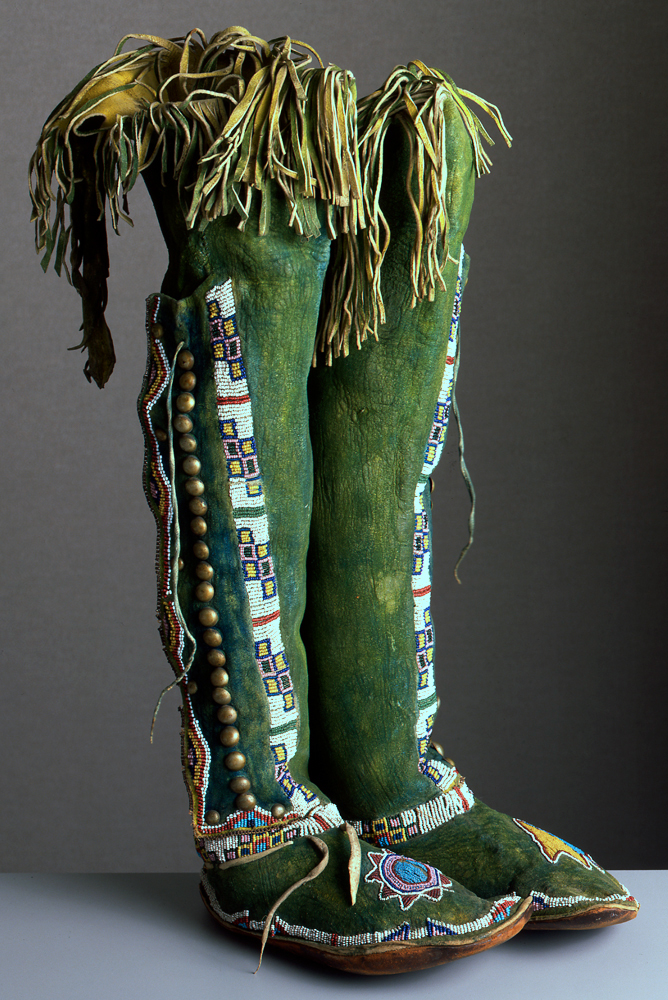 Kiowa artist, High Top Moccasins, ca. 1890/1900, leather, rawhide, paint, metal, and glass beads, The Elizabeth Cole Butler Collection, no known copyright restrictions, 87.88.57A,B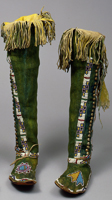 This work is not currently on view.
Title

High Top Moccasins

Artist

Date

ca. 1890/1900

Medium

leather, rawhide, paint, metal, and glass beads

Dimensions (H x W x D)

23 in x 3 1/2 in x 9 in

Collection Area

Native American Art

Category

Plains

Clothing and Textiles

Object Type

moccasins

Cultural Group

Kiowa

Credit Line

The Elizabeth Cole Butler Collection

Accession Number

87.88.57A,B

Copyright

no known copyright restrictions

Terms
Traditional footwear for Plains Indian women is usually either boots or a combination of moccasins and leggings. Lakota women commonly wore the latter. The moccasins are characteristically made with a hard rawhide sole and a bifurcated tongue; these are often extensively decorated with lazy stitch beadwork in geometric designs on a white background. Leggings offered additional protection and a sense of modesty. In contrast to Lakota women, many Kiowa women traditionally wear knee-high boots, decorated with much less beadwork than the Lakota moccasins and employing a different approach to color. Kiowa beadwork commonly uses different beaded designs on each toe, and the boots are further ornamented by metal studs and by paint on the unbeaded surface.