Horse Collar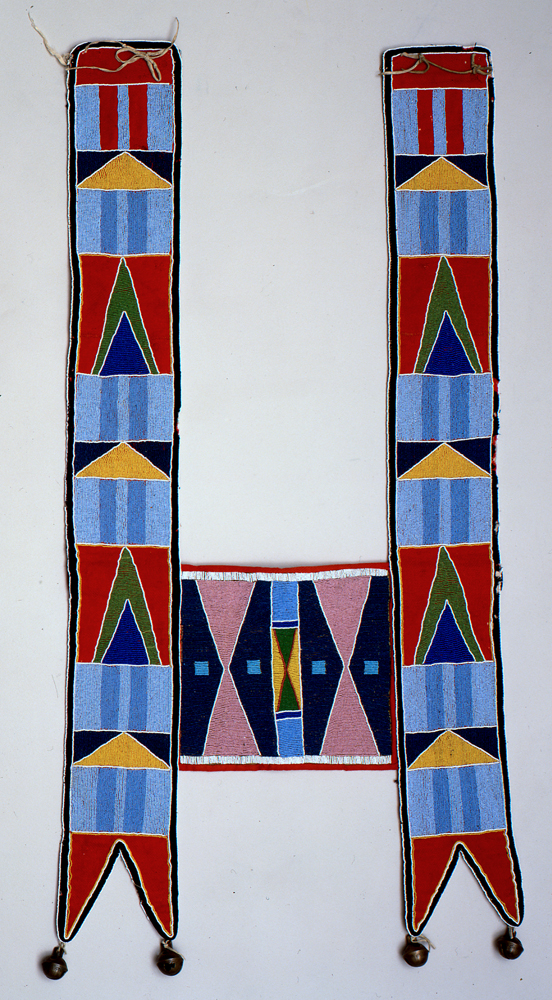 Nez Perce artist, Horse Collar, ca. 1880, wool cloth, cotton cloth, leather, glass beads, and brass bells, The Elizabeth Cole Butler Collection, no known copyright restrictions, 87.88.104
This work is not currently on view.
Title

Horse Collar

Artist

Date

ca. 1880

Medium

wool cloth, cotton cloth, leather, glass beads, and brass bells

Dimensions (H x W x D)

41 in x 21 in

Collection Area

Native American Art

Category

Plateau

Animal Equipment

Object Type

martingale

Cultural Group

Interior Salish

Tribe/Nation

Nez Perce

Credit Line

The Elizabeth Cole Butler Collection

Accession Number

87.88.104

Copyright

no known copyright restrictions

Terms
Traditional Nez Perce culture places a great value on horses, and both horses and riders wear their finest trappings during parades held at annual encampments and celebrations. This beaded collar is meant to hang from a horse's neck. The beadwork is sewn onto the red wool cloth with an overlay stitch that alternates between horizontal and vertical orientation in the various design areas. The geometric design emphasizes elongated triangles and diamonds in colors of predominantly the same value. The subtle color shift in the blue background is unusual and provides an added feeling of dimension.