Marital Felicity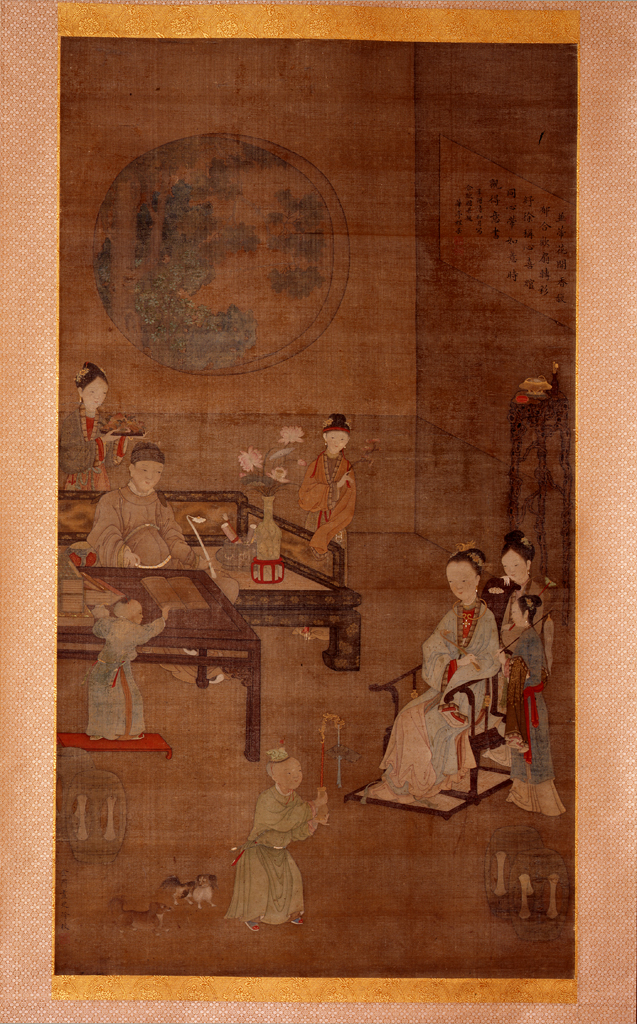 Leng Mei; with inscription and details by Cheng Liang, Marital Felicity, 1741, 4th month, hanging scroll; ink and color on silk, Bequest of Margery Hoffman Smith, public domain, 83.38.356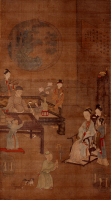 This work is not currently on view.
Title

Marital Felicity

Artist

Date

1741, 4th month

Period

China: Qing Dynasty (1644-1911)

Medium

hanging scroll; ink and color on silk

Dimensions (H x W x D)

painting: 46 5/8 in x 25 3/4 in

Inscriptions & Markings

signature: Jinmen huashi Leng Mei Jinmen huashi Leng Mei (Golden Gate Painting Master Leng Mei), brush, lower left Language: Chinese

signature; date: Painted and inscribed in the metal-bird year [1741], fourth month, by Cheng Liang of Huating, brush, upper right Language: Chinese

Collection Area

Asian Art

Category

Paintings

Object Type

hanging scroll

Culture

Chinese

Credit Line

Bequest of Margery Hoffman Smith

Accession Number

83.38.356

Copyright

public domain

Terms
In this most intriguing scene of an upper-class interior, a family drama is quietly played out before our eyes. The father, a court official, relaxes at his desk, scepter in hand. Behind him, one servant girl carries a tray which seems to hold the peaches of immortality; rounding his couch is another young woman who holds a lingzhi, "the fungus of immortality"--both fanciful symbols of long life. The lady of the house is also attended by two servants, while the children--two young boys--and two dogs frolic. A large round window looks out to the garden beyond. At the lower left is an inscription naming Ling Mei, who was a famous figure painter of the early 18th century; but at the upper right, written as though posted on the wall, is a longer inscription identifying the artist of this work as Cheng Liang and dating the painting to 1741. Scholarly opinion is divided as to the authorship of the painting. Cheng may have copied the composition from an earlier painting by Leng Mei. - M. Graybill, The Arlene and Harold Schnitzer Curator of Asian Art, 7/17/2013.