Bodhisattva Samantabhadra, from the series Two Bodhisattvas and Ten Great Disciples of Shakyamuni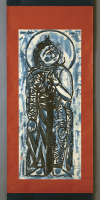 Munakata Shikō, Bodhisattva Samantabhadra, from the series Two Bodhisattvas and Ten Great Disciples of Shakyamuni, 1948 (blocks); ca. 1955-1960 (impression), hanging scroll; monochrome woodblock print with hand coloring on reverse side of paper, Bequest of Margery Hoffman Smith, © unknown, research required, 83.38.322
This work is not currently on view.
Title

Bodhisattva Samantabhadra, from the series Two Bodhisattvas and Ten Great Disciples of Shakyamuni

Related Titles

Series Title: 二菩薩釈迦十大弟子 Nibosatsu Shaka jûdai deshi (Two Bodhisattva and Ten Great Disciples of the Buddha)

catalog entry: Bodhisattva Samantabhadra, from the series Ni bosatsu Shaka jû dai deshi (Two Bodhisattvas and Ten Great Disciples of Shakyamuni)

series (translated): Two Bodhisattvas and Ten Great Disciples of Shakyamuni

series (transliterated): Ni bosatsu Shaka jû dai deshi

transliterated: Bodhisattva Samantabhadra

Artist

Date

1948 (blocks); ca. 1955-1960 (impression)

Medium

hanging scroll; monochrome woodblock print with hand coloring on reverse side of paper

Dimensions (H x W x D)

painting: 37 1/2 in x 15 3/4 in; mounting: 78 in x 23 1/2 in

Inscriptions & Markings

seal: Mune 棟 (Mune), stamped in red; intaglio seal, lower left Language: Japanese Description: The first character from the artist's personal name, Munakata

signature: Shiko Munakata Shiko Munakata (Shiko Munakata), graphite, lower right Language: Japanese (Roman script)

Collection Area

Asian Art; Graphic Arts

Category

Prints

Japanese Modern Prints

Object Type

relief print

hanging scroll

Culture

Japanese

Credit Line

Bequest of Margery Hoffman Smith

Accession Number

83.38.322

Copyright

© unknown, research required

Terms
Munakata Shikō was born into an impoverished blacksmith's family in Aomori, in the far north of Japan. Unable to continue his formal education beyond elementary school, he taught himself to do woodblock printing. So nearsighted that he was nearly blind, Munakata worked by carving with his face right next to his blocks of plywood, chiseling away with furious energy.

Munakata's famous series, Two Bodhisattvas and Ten Disciples of the Buddha, was originally carved from twelve large blocks of katsura wood in 1939. The resulting prints were intended to be panels for a pair of six-fold screens. During the course of the Pacific War, Munakata used the large woodblocks to line the walls of the bomb shelter at his Tokyo home. The blocks for the outer panels—the figures of the bodhisattvas Manjusri and Samantabhadra—were destroyed. Munakata carved replacements in 1948. The reconstituted pair of screens, printed in monochrome ink, won prestigious prizes in international biennales in 1955 and 1956, skyrocketing Munakata to international fame. The image of Samantabhadra (Fugen Bosatsu) was meant for the far left panel of the right screen.

This print and its companion, 83.38.321 (Manjusri) in the Museum's collection were apparently never mounted on a screen but designed to be displayed as a pair of hanging scrolls. The color was applied by hand to the reverse of the paper and allowed to soak through.