Large storage jar with two loop handles spiral and crisscross designs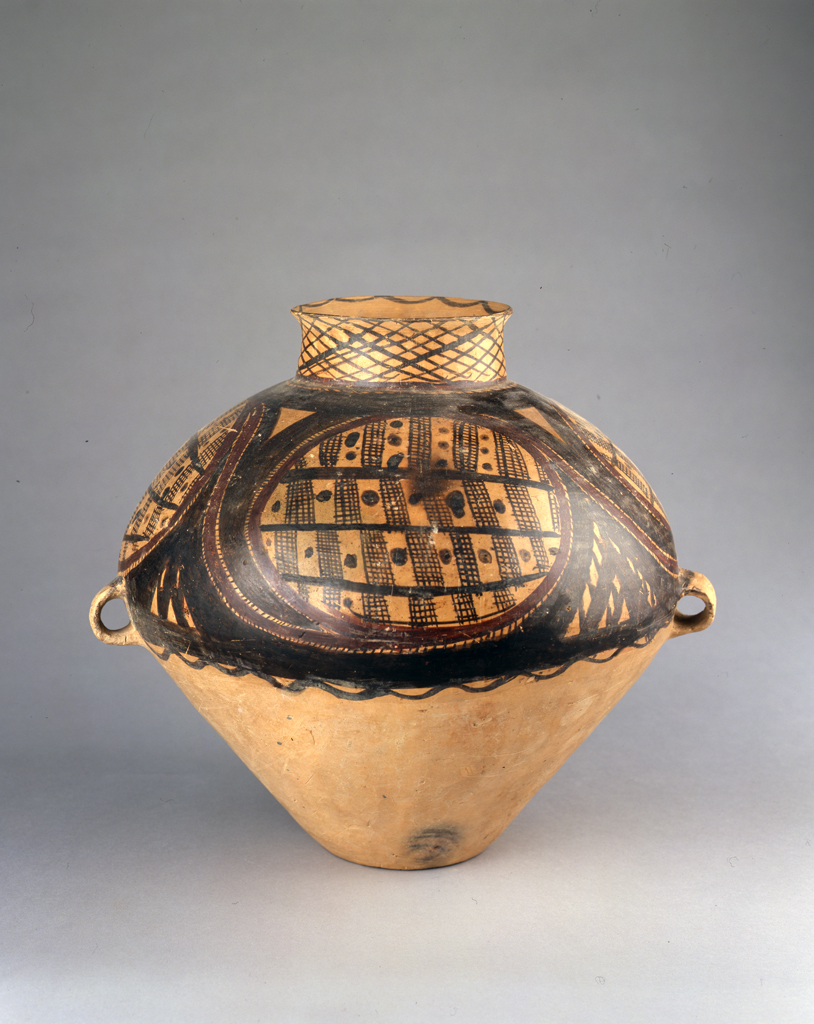 China, Gansu province, Majiayao culture, Banshan type, Large storage jar with two loop handles spiral and crisscross designs, 2650/2350 BCE, red earthenware with design painted in black, dark brown, and burgundy slip, Gift of an Anonymous Donor, public domain, 1997.9
This work is on view.
Title

Large storage jar with two loop handles spiral and crisscross designs

Related Titles

display title: Large storage jar with spiral and crisscross designs

original language: 彩陶壺

translated: Large storage jar with spiral and net designs

Artist

Date

2650/2350 BCE

Period

Neolithic (7th millennium BCE-10th century BCE)

Medium

red earthenware with design painted in black, dark brown, and burgundy slip

Dimensions (H x W x D)

13 1/4 in x 14 in diam.

Collection Area

Asian Art

Category

Ceramics

Object Type

vessel

Culture

Chinese

Yangshao

Credit Line

Gift of an Anonymous Donor

Accession Number

1997.9

Copyright

public domain

Terms

Location
Of several different regional cultures in China during the Neolithic period (5000–2000 BCE), the Majiayao in the northwest is most famous for its painted pottery. Small riverside villages had ready access to riverbed clay. The potter of this vessel worked by building up coils of clay, pinching them together, and then striking the surface with a paddle both inside and out to compact the walls. The jar was then dried, painted with pigments made from soot or local plants, and polished to a high shine before being fired in a simple kiln. The designs may refer to fishing nets, so crucial for the village's food supply. This jar is surprisingly light for its size.