Portrait of a Woman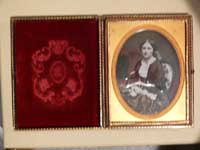 unknown photographer, Portrait of a Woman, 1850/1860, daguerreotype, Bequest of Fae Heath Batten, public domain, 1997.58.139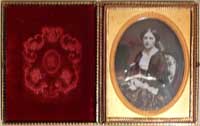 This work is not currently on view.
Title

Portrait of a Woman

Related Titles

display title: Untitled (Portrait of a Woman)

Artist

Date

1850/1860

Medium

daguerreotype

Collection Area

Photography

Category

Photographs

Object Type

photograph

Culture

American

Credit Line

Bequest of Fae Heath Batten

Accession Number

1997.58.139

Copyright

public domain

Terms
Painted miniatures, also called limnings, are a type of small portrait that became popular in England and France beginning in the sixteenth century. Portrait miniatures typically were made of watercolor on ivory and often marked meaningful lifetime events such as marriage, birth, and even death. The miniatures were worn as jewelry, placed in pockets, or tucked under garments in order to keep the likeness of a loved one close by.

In the nineteenth century small photographic portraits copied many features of the painted miniatures but were much less expensive. Furthermore, because they could be produced in large quantities, they offered many more people the chance to possess a likeness of a relative or friend. The polished silver and glass surfaces of daguerreotypes and ambrotypes, examples of which can be seen here, were extremely fragile and required careful handling and protective cases. Tintype photographs, however, were made of iron and could be placed into albums or even sent through the mail without damage. Tintypes became wildly popular in the United States during the Civil War, when soldiers had their portraits made on the battlefield and then sent them home to loved ones. The contemporary tintype of a soldier included here recalls and updates the touching nature of nineteenth-century wartime portraits and demonstrates that cased photographs continue to loom large in spite of their small size.