Europa and the Bull I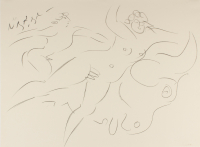 Reuben Nakian, Europa and the Bull I, 1980, lithograph on paper, Museum Purchase: Helen Thurston Ayer Fund, © unknown, research required, 81.11
This work is not currently on view.
Title

Europa and the Bull I

Artist

Date

1980

Medium

lithograph on paper

Edition

artist's proof; edition of 75

Dimensions (H x W x D)

image: 22 1/2 in x 30 1/8 in; sheet: 22 1/2 in x 30 1/8 in

Inscriptions & Markings

number: , verso, lower right

chopmark: , lower right

edition; signature: , upper left

Collection Area

Graphic Arts

Category

Prints

Object Type

planographic print

Culture

American

Credit Line

Museum Purchase: Helen Thurston Ayer Fund

Accession Number

81.11

Copyright

© unknown, research required

Terms
Reuben Nakian, although better known for his sculpture, created a handful of prints devoted to the story of princess Europa, who the god Zeus, disguised as a bull, abducted and ravaged. Nakian was drawn to the sensual subject and depicted Europa and the bull with a light-hearted joy, rather than the terror described by the poet Ovid in Metamorphoses:

!T!And gradually she lost her fear, and he !T!Offered his breast for her virgin caresses, !T!His horns for her to wind with chains of flowers !T!Until the princess dared to mount his back !T!Her pet bull's back, unwitting whom she rode.

!T!Then—slowly, slowly down the broad, dry beach— !T!First in the shallow waves the great god set !T!His spurious hooves, then sauntered further out !T!'til in the open sea he bore his prize !T!Fear filled her heart as, gazing back, she saw !T!The fast receding sands. Her right hand grasped !T!A horn, the other lent upon his back !T!Her fluttering tunic floated in the breeze.