Blind Date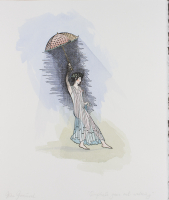 John Furnival, Blind Date, 1979, artist's book: etching, embossing, and letterpress on Somerset paper, Gift of Mr. Edward S. Safdie, © unknown, research required, 81.106.187a-w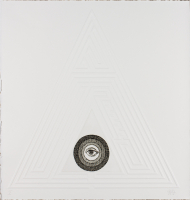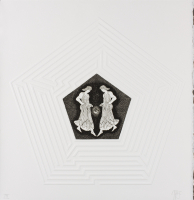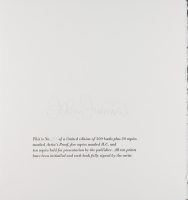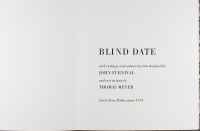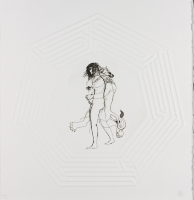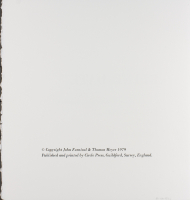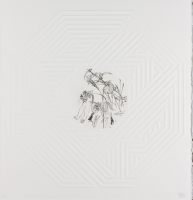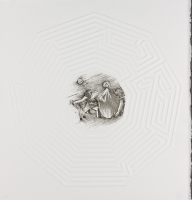 This work is not currently on view.
Title

Blind Date

Artist

Related People

Date

1979

Medium

artist's book: etching, embossing, and letterpress on Somerset paper

Edition

254/300

Dimensions (H x W x D)

slipcase: 12 15/16 in x 12 1/8 in x 1 5/8 in; each sheet: 11 1/8 in x 11 3/8 in

Collection Area

Graphic Arts

Category

Books, Portfolios, and Manuscripts

Prints

Object Type

intaglio print

book

Culture

British

Credit Line

Gift of Mr. Edward S. Safdie

Accession Number

81.106.187a-w

Copyright

© unknown, research required

Terms
Artists have richly mined the myth of Theseus and the Minotaur since classical antiquity. The Minotaur, a beast composed of the body of a man and the head of a bull, was kept in the labyrinth of King Minos on the island of Crete and fed sacrificial youths and maidens.

In the myth, Theseus must journey through the labyrinth, kill the beast, and find his way out. In this rendition, artist John Furnival deeply embossed the paper to create the labyrinth; the figures at the center of the composition refer to key moments in the narrative. Here the artist depicted the Minotaur trapped in the labyrinth, two of the seven sacrificial maidens, and Theseus's triumph over the creature.