The History of Printmaking: Senefelder Receives the Secrets of Lithography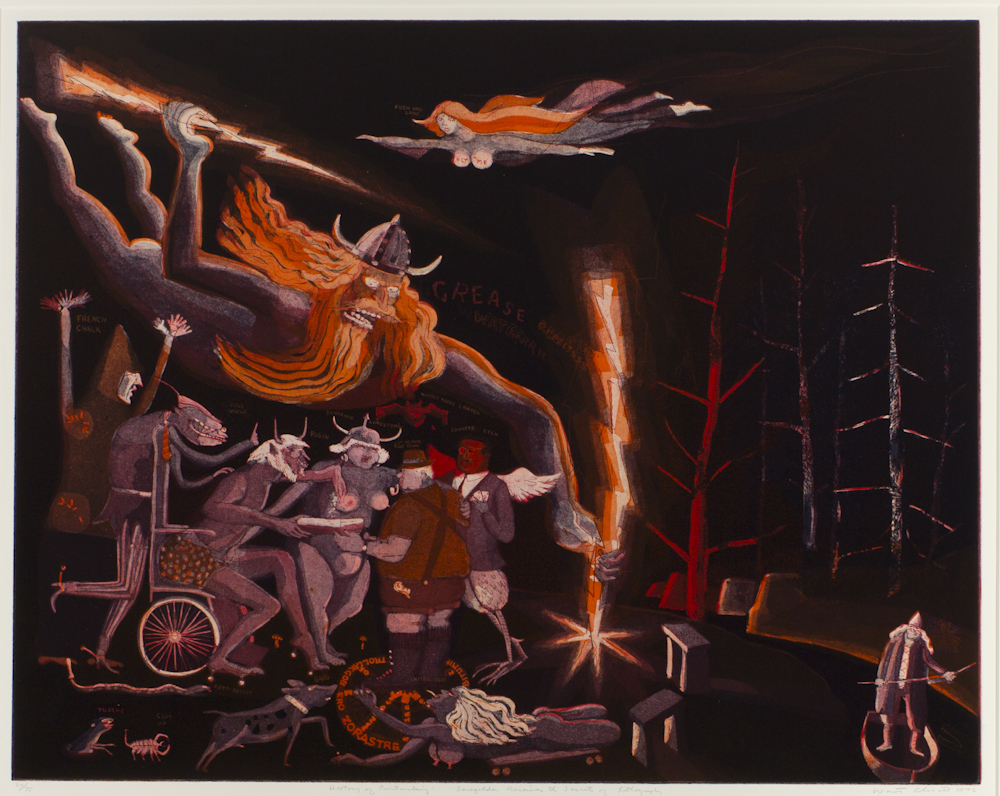 Warrington Colescott, The History of Printmaking: Senefelder Receives the Secrets of Lithography, 1976, soft-ground etching and aquatint, with vibrograver, printed in color on cream Arches paper, Museum Purchase: Caroline Ladd Pratt Fund, © Warrington Colescott, 80.47.1e
This work is not currently on view.
Title

The History of Printmaking: Senefelder Receives the Secrets of Lithography

Related Titles

display title: My German Trip: At Nürenburg the Master Was Expecting Me . . .

original language: The History of Printmaking: Senefelder is Given the Secrets of Lithography

series (original language): The History of Printmaking

Artist

Date

1976

Medium

soft-ground etching and aquatint, with vibrograver, printed in color on cream Arches paper

Edition

20/75

Catalogue Raisonné

Chapin 215

Dimensions (H x W x D)

plate: 24 7/8 in x 27 5/8 in; sheet: 25 in x 35 3/4 in

Inscriptions & Markings

watermark: Arches France, watermark, lower left

signature: Warrington Colescott, graphite, lower right

title: History of Printmaking: Senefelder receiveds the secrets of lithography, graphite, lower center

edition: 20/75, graphite, lower left

Collection Area

Graphic Arts

Category

Prints

Object Type

intaglio print

Culture

American

Credit Line

Museum Purchase: Caroline Ladd Pratt Fund

Accession Number

80.47.1e

Copyright

© Warrington Colescott

Terms
Alois Senefelder invented lithography in Munich in the 1790s, but Colescott locates its genesis in a primordial forest straight out of Wagner. Here, the artist depicts Senefelder in concert with devilish creatures, Valkyries, and a fierce Teutonic god who hurls a thunderbolt and proclaims "Grease Repels Water." Every creature has a secret to share: the wonder of rosin, tusche, and photoresist, among them. A heart inscribed "June Wayne" (the founder of Tamarind Lithography Workshop, pictured in another sheet from The History of Printmaking) is the only modern addition to this deeply mysterious atmosphere, suitable for "that greasy and repellant medium," in Colescott's words.