Woman

Reginald Marsh, Woman, 1954, oil on wood, Bequest of Felicia Meyer Marsh, © artist or other rights holder, 79.16.2A,B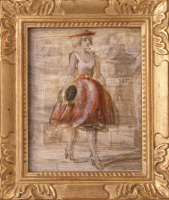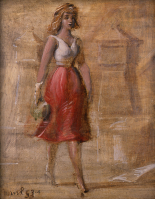 This work is on view.
Title

Woman

Artist

Date

1954

Medium

oil on wood

Dimensions (H x W x D)

image: 9 1/2 in x 7 3/8 in

Collection Area

American Art

Category

Paintings

Object Type

painting

Culture

American

Credit Line

Bequest of Felicia Meyer Marsh

Accession Number

79.16.2A,B

Copyright

© artist or other rights holder

Terms

Location
Reginald Marsh's favorite subject was New York of the 1930s and 1940s. He preferred to paint the raw, uncouth parts of the city such as the Bowery, Coney Island, the burlesque theaters, and subways. These subjects aligned him with the urban realist tradition of such painters as John Sloan and George Luks, both of whom had been his teachers. His use of an active line gives his works a palpable sense of movement and vitality.

The human, particularly female, figure is an important, recurring motif in Marsh's work. His figures are usually cast as types rather than individuals, for example the blond bombshell and the muscleman. Reflecting his lifelong interest in the study of human anatomy, the form-fitting clothing of his subjects often gives them the appearance of nudity.