Fierce: Animal Life from the Collection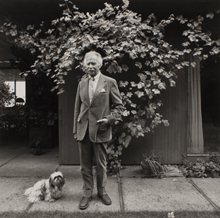 Robert Miller (American, born 1948), Pietro Belluschi, Architect , 1986, gelatin silver print, Gift of the artist, © Robert Miller, 2012.164.30
2013
Animals have held a significant place in art throughout history: Horses and bison were rendered on the walls of the Lascaux caves more than 17,000 years ago, animal-headed deities ruled over ancient Egyptian temples, mythical beasts and hunting scenes were woven into medieval tapestries, and in 2012 the Walker Art Center's first Internet Cat Video Film Festival paid tribute to the popularity of felines in the present digital age. This installation of more than seventy photographs from the permanent collection celebrates those distinguished creatures—both wild and domesticated—that pass before our cameras and enrich our lives with wonder, companionship, and sometimes even danger.
Stoic draft and pack animals capable of holding still for long exposures appeared in some of the first landscape and travel photographs created during the 1840s, while the occasional blurry pet could be seen alongside its owner in refined studio portraits of the period. When exposure times shortened and the costs relating to image production dropped significantly during the 1860s and 1870s, animals became regular and beloved additions to many photographers' compositions. By the turn of the twentieth century, when easy-to-use Kodak cameras proliferated, domesticated pets emerged as customary subjects, while less predictable wild animals became a new challenge for amateur and professional photographers alike.
As fine-art photography gained widespread acceptance by the mid- twentieth century, photographers produced works that further portrayed animals as sentient and highly complex: perceptive, spirited, dignified, and predatory beings existing in respectful but sometimes tenuous proximity to humans. Philippe Halsman's whimsical portrait of Surrealist artist Salvador Dalí famously captures cats flying through the air, while dogs take flight in the images by David Hume Kennerly and Jonathan Brand. A chimpanzee, though forever suspended in a natural history museum display, appears to stalk an unsuspecting human visitor in Allen Maertz's edgy photograph. Amy Stein's Domesticated series recreates actual encounters between people and wild animals in places where urbanity surrenders to the rural. And numerous photographers capture imaginative representations of real creatures, from intimidating statues to sweet stuffed animals. Whether a simple tintype portrait or a complex study of animal behavior, each photograph in FIERCE invites us to revel in the striking complexity of the outwardly tame but instinctively wild beasts that surround us.
Curated by Julia Dolan
Exhibition Title

Fierce: Animal Life from the Collection

Date

2013

Curated by

Julia Dolan

Begin Date

2013-05-04

End Date

2013-08-25