Hercules Fighting the River God Achelous, from the series the Labors of Hercules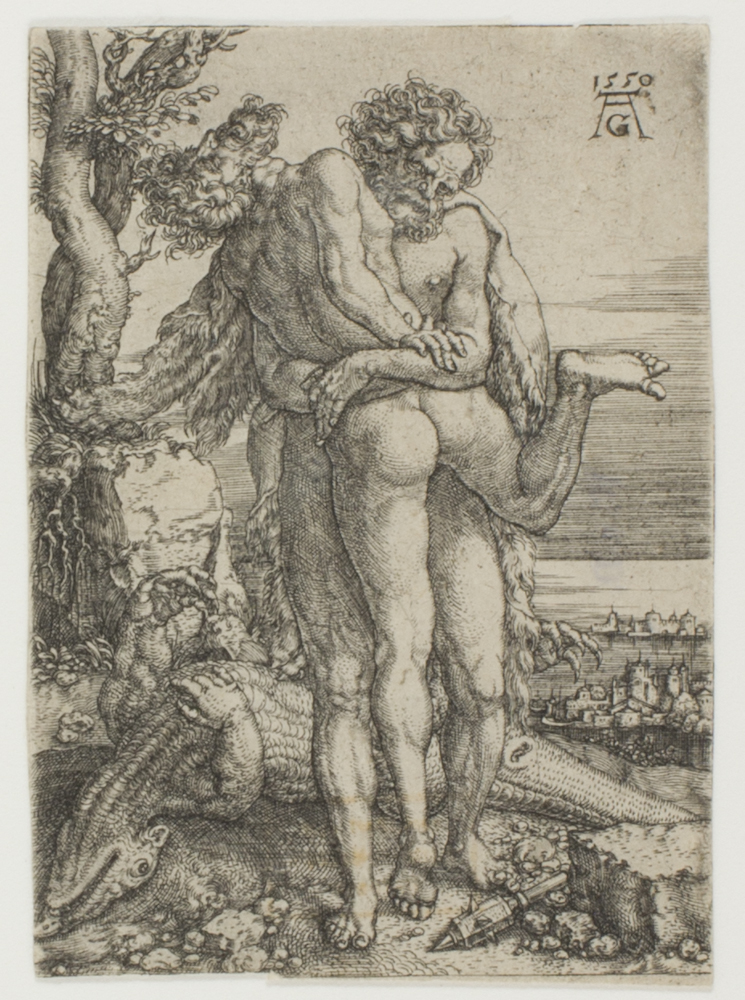 Heinrich Aldegrever, Hercules Fighting the River God Achelous, from the series the Labors of Hercules, 1550, engraving on paper, The Vivian and Gordon Gilkey Graphic Arts Collection, public domain, 78.52.395
This work is not currently on view.
Title

Hercules Fighting the River God Achelous, from the series the Labors of Hercules

Related Titles

series (original language): The Labours of Hercules

Artist

Date

1550

Period

High Renaissance (late 15th-1520s)

Medium

engraving on paper

Dimensions (H x W x D)

image/sheet: 3 5/8 in x 2 5/8 in

Inscriptions & Markings

signature/maker's mark: LR " 1550/G/A"

inscription: none

Collection Area

Graphic Arts

Category

Prints

Object Type

intaglio print

Culture

German

Credit Line

The Vivian and Gordon Gilkey Graphic Arts Collection

Accession Number

78.52.395

Copyright

public domain

Terms
In classical myth, Hercules was the greatest of all heroes. After Hercules killed his wife and children in a fit of madness induced by Hera, the hero's cousin Eurystheus, the king of Mycenae, sentenced him to complete twelve labors (or challenges). In other versions of the myth, the challenges were meant to keep him from attaining the kingdom of Mycenae. In either case, Hercules's ordeals were popular subjects for Renaissance artists, who focused on the muscular form of the hero as he battled the fierce lion of Nemea, man-eating horses, and Giants, among other trials. This scene refers to Hercules's quest to fetch three golden apples from the garden of Hesperides sisters, which was guarded by the fierce dragon Ladon.