Disparate puntual (Una Reina del circo) (Punctual Folly or The Queen of the Circus), plate B from the series Los Disparates (Los Proverbios) (The Follies)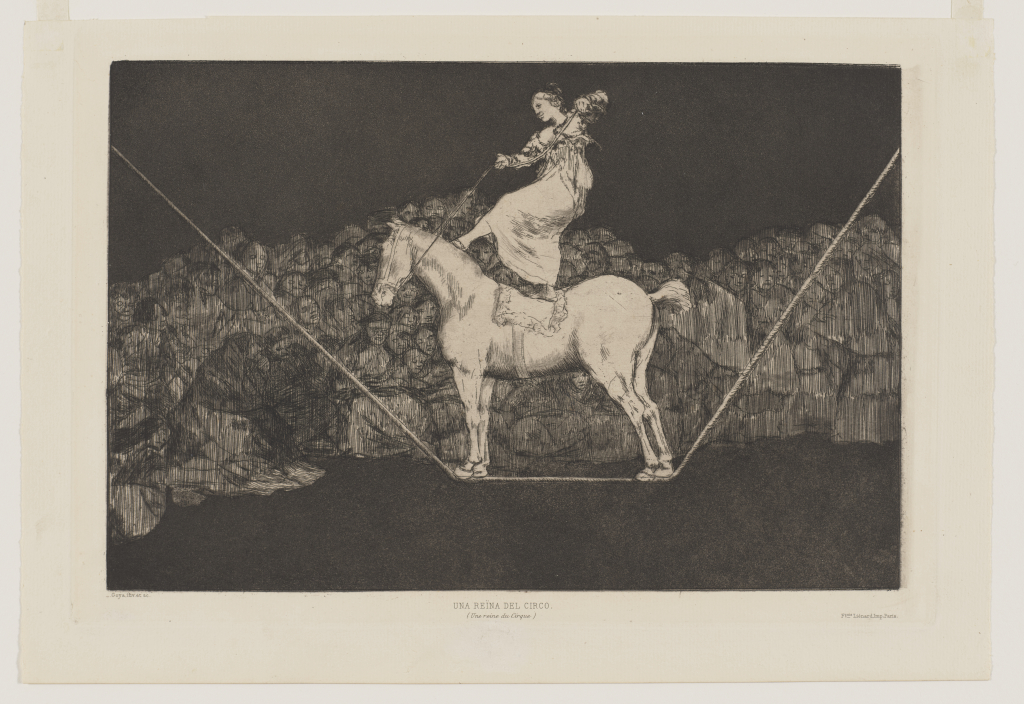 Francisco de Goya, Disparate puntual (Una Reina del circo) (Punctual Folly or The Queen of the Circus), plate B from the series Los Disparates (Los Proverbios) (The Follies), ca. 1816-1823; published 1877, etching and aquatint on cream laid paper, The Vivian and Gordon Gilkey Graphic Arts Collection, public domain, 78.52.298
This work is not currently on view.
Title

Disparate puntual (Una Reina del circo) (Punctual Folly or The Queen of the Circus), plate B from the series Los Disparates (Los Proverbios) (The Follies)

Related Titles

original language: Disparate Punctual (Una Reina Dal Circo)

series (original language): Los Disparates (Los Proverbios)

translated: Punctual Folly or The Queen of the Circus

Artist

Date

ca. 1816-1823; published 1877

Medium

etching and aquatint on cream laid paper

Edition

first published in 1877 in L'Art

State

2nd state

Catalogue Raisonné

Harris 267, II; Delteil 0221

Dimensions (H x W x D)

plate: 8 9/16 in x 12 13/16 in; sheet: 10 3/4 in x 15 3/4 in

Inscriptions & Markings

publisher's mark: Fçois Liénard,Imp.Paris., printed, lower right in plate

title: UNA REÏNA DEL CIRCO. // (Une reine du Cirque), printed, lower middle in plate

signature: Goya,inv.et sc., printed, lower left in plate

Collection Area

Graphic Arts

Category

Prints

Object Type

intaglio print

Culture

Spanish

Credit Line

The Vivian and Gordon Gilkey Graphic Arts Collection

Accession Number

78.52.298

Copyright

public domain

Terms
Artists frequently use the motif of the circus to satirize society in their graphic art. Here, Goya conflates two circus acts: acrobatic riding and tightrope walking to create the illusion of awe-inspiring balance before an audience. At closer inspection, however, the performance proves to be a trick, for the rope is not suspended but firmly planted on the ground by the horse's hooves, and the audience is not watching, but sleeping. Goya is likely commenting on the regular occurrence of (or "punctual") gullibility on the part of the general Spanish populace. The only print in the series Los Disparates to use overt circus imagery, this work was issued separately from the rest of the suite; it was published only in 1877, in the French magazine L'Art.