Flesh and Bone: Photography and the Body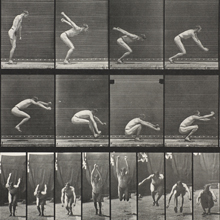 Eadweard Muybridge (British, 1830-1904), Jumping; Standing Broad Jump (Shoes), 1887, collotype, Museum Purchase: Funds provided by the Photography Council, no known copyright restrictions, 2011.1.2
2012
The human body has been a fundamental and uniquely challenging subject throughout the history of photography. Captured by the camera, it can be aesthetically pleasing, curious in its appearance, or confrontational in its honesty. Flesh & Bone complements the landmark exhibition The Body Beautiful in Ancient Greece, similarly treating the human form not only as artistic muse, but also as complex social and spiritual subject. Drawn from the Museum's permanent collection, the photographs in these galleries range from classically influenced, idealized nudes to documentary works that engage the body as a site of cultural expression and even conflict.
The body was the focus of the earliest photographs, appearing in millions of daguerreotype portraits made throughout the United States and Europe in the 1840s and 1850s. As technology improved and the camera became increasingly mobile, photographers became more creative, finding inspiration in sources including classical sculpture and modern painting. Some left behind their studios for the outdoors, incorporating the body in the landscape. During the late nineteenth century, Eadweard Muybridge, working first in California and later Pennsylvania, used multiple cameras to capture people in mid-movement, inspiring artists and scientists alike with his resulting motion studies. Concurrently, Western photographers traveled to remote regions of the Middle East, Asia, and Africa, producing portraits of the inhabitants. Eagerly collected by tourists while abroad and after returning home, the photographs served as mementos of travel as well as bearers of cultural information—sometimes accurate, sometimes stereotypical or misleading—that shaped outsiders' perceptions of foreign societies.
Throughout the twentieth century and into the current digital age, the camera has continued to document and reconsider the human form. Photographers including Harry Callahan and Emmet Gowin explore the intimacy of family through depictions of their loved ones, while Nina Berman and W. Eugene Smith demonstrate the fragility of skin and muscle ravaged by war and disease. Whether depicting unself-conscious children who pose confidently or aging adults whose bodies record the effects of time, the images on view here arrest time and render the mortal eternal, permitting us to explore, question, and revel in the ever-changing human form.
Curated by Julia Dolan
Exhibition Title

Flesh and Bone: Photography and the Body

Date

2012

Curated by

Julia Dolan

Begin Date

2012-09-15

End Date

2013-01-06