After Annibale Carracci's paintings in the Farnese Gallery, Rome. 21 engravings, title page, and 3 dedicatory pages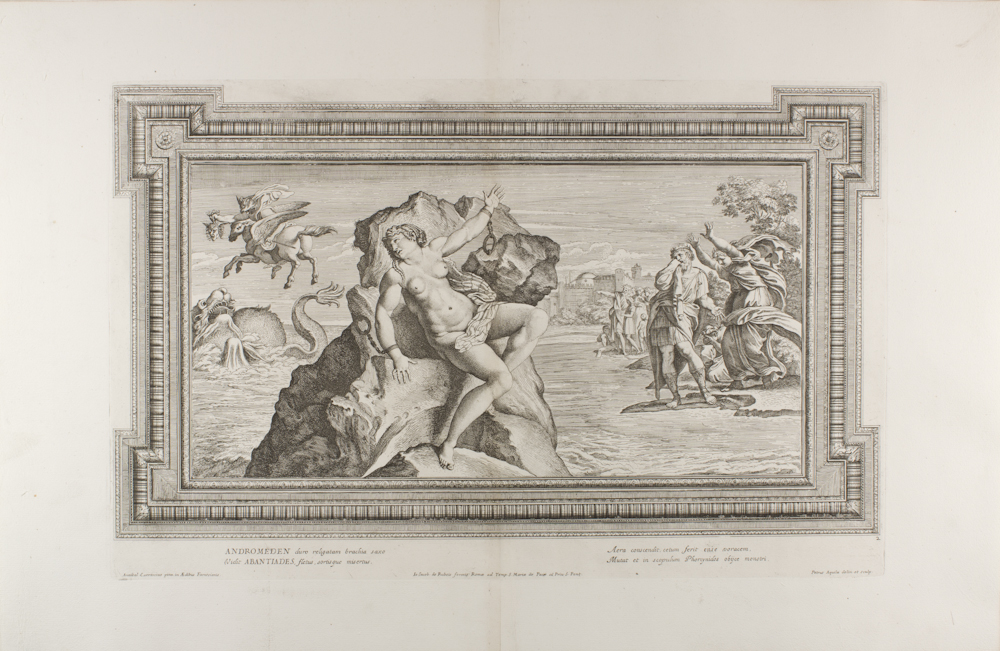 Pietro Aquila, Perseus and Andromeda, Plate 2 from Galariae Farnesianae Icones, 1674, etching with engraving on paper, Gift of the Portland Art Association Library, public domain, 77.59.2b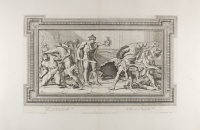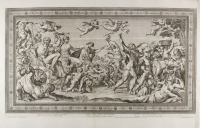 This work is not currently on view.
Title

After Annibale Carracci's paintings in the Farnese Gallery, Rome. 21 engravings, title page, and 3 dedicatory pages

Artist

Related People

Date

1674

Medium

etchings with engraving on paper, bound in a hardcover book

Dimensions (H x W x D)

sheet: 18 11/16 in x 28 3/16 in

Inscriptions & Markings

signature/maker's mark: lower left, Annibal Carraccius pinx in Aedibus Farnesianis; lower right, Petrus Aquila delin. et sculp.

inscription: inscribed frontispiece

Collection Area

Graphic Arts

Category

Books, Portfolios, and Manuscripts

Prints

Object Type

intaglio print

Culture

Italian

Credit Line

Gift of the Portland Art Association Library

Accession Number

77.59.2A-U

Copyright

public domain

Terms
Triumph of Bacchus and Ariadne, Plate 12 of Galeriae Farnesianae Icones, 77.59.2l At the turn of the sixteenth century, Italian painter Annibale Carracci produced a great series of mythological subjects to adorn the vault in the Gallery of the Farnese Palace in Rome (1597-1604). The series celebrates the indomitable power of love, and many printmakers made reproductive prints of the paintings (that is, prints that faithfully reproduce Carracci's imagery). The talented Sicilian printmaker Pietro Aquila made etchings of the compositions, which Giovanni Giacomo de'Rossi published in Rome. In this lively scene, nymphs and satyrs cheer the procession of Bacchus and his bride, Ariadne, traveling to their marital bed.

Perseus and Phineus, Plate 4 of Galeriae Farnesianae Icones, 77.59.2d This composition tells of the battle of Phineus and Perseus over the princess Andromeda. Phineus was engaged to Andromeda, but when Perseus killed Medusa, the snake-haired Gorgon, he won Andromeda's hand. Outraged, Phineus attempted to kill Perseus at the wedding, but Perseus fought him off by revealing Medusa's head, which turned everyone who gazed upon it to stone.

Perseus and Andromeda, Plate 2 of Galeriae Farnesianae Icones, 77.59.2b In this dramatic scene, Perseus swoops down to rescue Andromeda, while her family despairs on the shore. Cepheus, the princess's own father, had chained her to a rock to be eaten by the sea monster Cetus as a sacrifice to the gods to save his kingdom.