Izquierdo: Seven Decades of Paperworks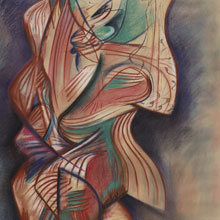 Manuel Izquierdo (American, born Spain, 1925-2009), The Return, 1985, pastel on paper, Gift of the Manuel Izquierdo Trust, © 1985 Manuel Izquierdo, 2010.37.5
2011
Manuel Izquierdo (1925–2009), one of the Northwest's foremost sculptors, was born in Spain. Although he was equally recognized as an exceptional woodblock printmaker, less known are his large, expressive pastels, and prints and drawings in a wide variety of media. The Portland Art Museum recently received a vibrant selection of drawings and prints, a number of which have never before been exhibited, from the artist's estate. They provide the Museum with a comprehensive survey of Izquierdo's oeuvre over a period of seventy years, and for many, they constitute a first glimpse of the sculptor as draftsman.
Virtually orphaned by the Spanish Civil War, in 1936, along with many of the children of Madrid, Izquierdo was evacuated to avoid Franco's troops. The eldest of three children, he cared for his siblings as they were shuttled through a series of Spanish and French refugee camps, to arrive finally, in 1943, in Portland.
Initially fascinated by sculpture, he was introduced to sculptors Hilda Morris and Fred Littman, both of whom inspired and influenced his early work. While a student at Washington High School, he met prominent Northwest calligrapher Lloyd Reynolds, who taught the young Izquierdo the basics of woodblock printing and engraving. Reynolds's mastery of calligraphy clearly impressed Izquierdo, as many of his later drawings demonstrate an affinity for the rhythmic arabesque of the calligraphic line. Izquierdo enrolled in the Museum Art School (now the Pacific Northwest College of Art) and graduated in 1951. He was a professor at the school from 1951-1997, where he taught both sculpture and block printing.
Izquierdo's early subject matter most often alluded to his tumultuous childhood. Warriors were a prevalent theme, as were shepherds, representing saviors metaphorically guiding their flocks to safety. These motifs reoccur frequently over a thirty-year period. However, living in the generally benign Northwest encouraged his exploration of other subjects. In a 1992 woodcut retrospective exhibition catalog, the artist stated: "I am partial to circuses, rodeos, animals, dogs, women, the night, the moon, the stars, the water in rivers, birds and insects, shadows, silhouettes, profiles, silence, rain, gardens and flowers…" 1 Proving his point, those various motifs await the viewer's discovery in the 63 artworks featured in this exhibition.
The works on paper by Izquierdo offer viewers an intriguing path through the twentieth century and into the present. While the motifs and historical references here are strongly rooted in Izquierdo's personal story, they in fact date back to the ancients, reminding us that the core issues confronting humankind have been remarkably constant over thousands of years. Manuel Izquierdo's journey spanned continents and tested him with war, abandonment, and poverty. As an artist, his journey was one of determination, hard work, and an enduring desire to tell powerful tales.
Curated by Bonnie Laing-Malcolmson
Exhibition Title

Izquierdo: Seven Decades of Paperworks

Date

2011

Curated by

Bonnie Laing-Malcolmson

Begin Date

2011-11-19

End Date

2012-03-04