Carved Tusk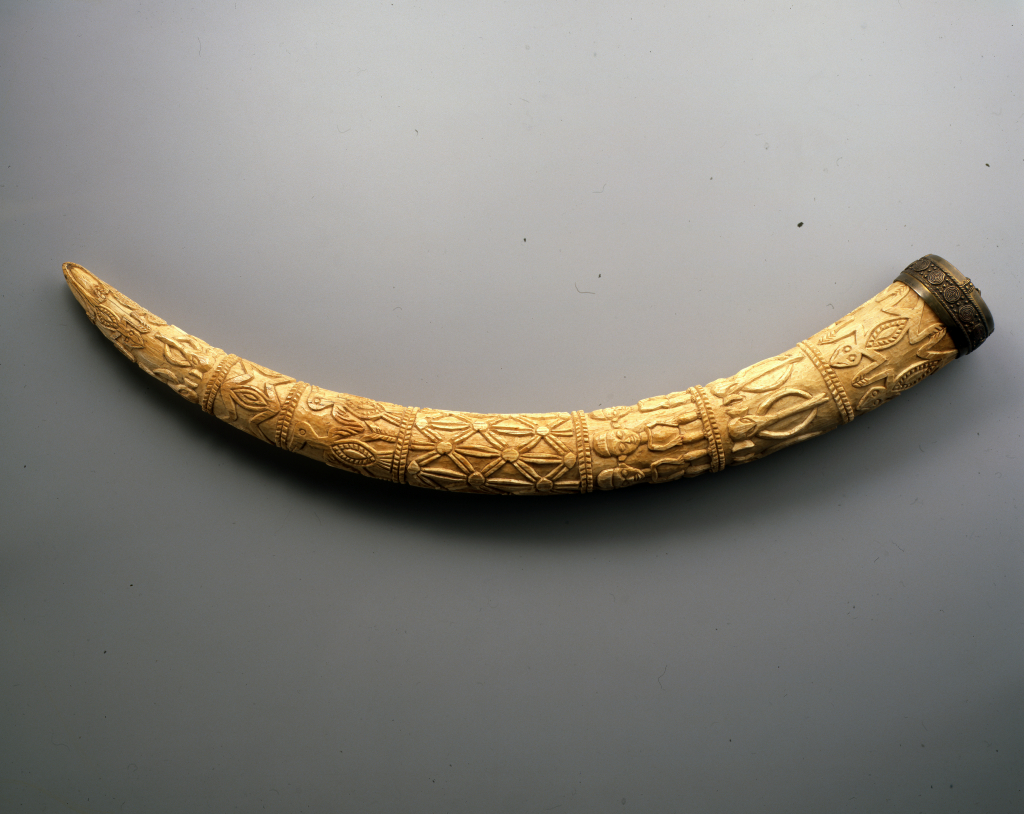 Bobe Ngincho; Salifou Gbetnkom, Carved Tusk, tusk carved late 19th century; bronze cap cast 1946, ivory and bronze, The Paul and Clara Gebauer Collection of Cameroon Art; Museum Purchase: Caroline Ladd Pratt Fund, public domain, 72.12.41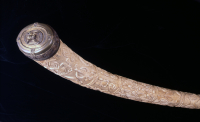 This work is not currently on view.
This tusk was carved by Bobe Ngincho, who worked in the second half of the nineteenth century in Babanki-Tungo, the most important center for ivory carving in the northwestern Grassfields. Motif bands create the design structure, which resembles that of the famous carved ivory tusks from the ancient kingdom of Benin, located in present-day Nigeria.

The iconography of the tusk is complex, representing several icons common in Grassfields art. Frog motifs symbolize propagation and abundancy, elephant heads allude to the power and beauty of this animal associated with kings, and a stylized spider motif refers to peace and protection thought to be embodied in the house spider. Two other bands depict royal retainers and birds.

In 1946, Salifou Gbetnkom, a Bamum artist who briefly settled in Bafreng near Bamenda, used the lost-wax method to cast the bronze cap, made to protect the brittle edges of the tusk. The cap repeats the spider motif.

Ivory was closely associated with rulers, as only they had the prerogative to possess and distribute it. Both carved and plain elephant tusks often served as kings' footrests at important ceremonies, where rulers presented themselves in full regalia and sat on elaborate thrones.