The Mask of the Red Death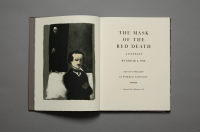 Federico Castellón, The Mask of the Red Death, 1969, illustrated bound book with 16 color lithographs on Rives BFK paper; housed in a slipcover; text by Edgar Allen Poe (1809-1849), Gift of Mr. and Mrs. William H. Givler, © unknown, research required, 71.42a,b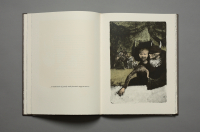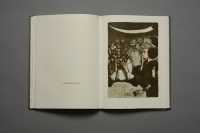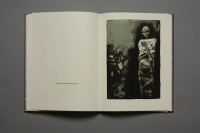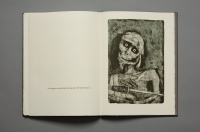 This work is not currently on view.
Title

The Mask of the Red Death

Artist

Related People

printer: Aquarius Press (American)

Date

1969

Medium

illustrated bound book with 16 color lithographs on Rives BFK paper; housed in a slipcover; text by Edgar Allen Poe (1809-1849)

Edition

349/500

Catalogue Raisonné

Freundlich 191-206

Dimensions (H x W x D)

book (a): 15 in x 11 1/4 in x 3/4 in: slipcover (b): 15 3/8 in x 11 1/2 in x 7/8 in

Collection Area

Graphic Arts

Category

Books, Portfolios, and Manuscripts

Prints

Object Type

book

planographic print

Culture

American

Credit Line

Gift of Mr. and Mrs. William H. Givler

Accession Number

71.42a,b

Copyright

© unknown, research required

Terms
Colophon: "This edition of THE MASK OF THE RED DEATH is the first publication of the Aquarius Press. The text is set as it appeared in the first edition, published in Graham's Magazine in 1842. There are 500 copies in the principal edition, numbered and signed by the artist on this page. A special edition of twenty-five copies numbered I-XXV contains an additional suite of the 16 color lithographs, signed and without text, plus six additional original color lithographs created as marginalia, all individually signed. Ten copies of the regular edition numbered A-J are reserved for the collaborators.

The lithographs were drawn on the stones by Federico Castellon and printed under his supervision at the Atelier of Edmund and Jacques Desjobert in Paris, France, on Rives BFK paper, in 1968. The book is designed by Bert Clarke and the text is set in Monotype Walbaum and printed by Clarke & Way in New York City. The binding is by The Russell Rutter Company. Editorial direction: John Ross and Jacob Lanau. This is copy number 349."