Hand Cross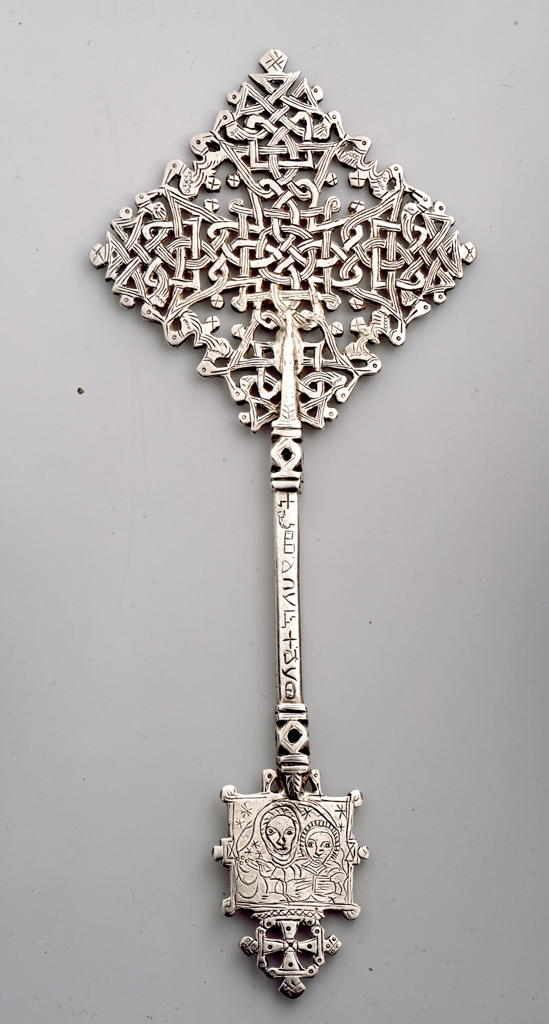 Ethiopian artist, Hand Cross, 19th or 20th century, silver, Gift of Gladys Calef Lawther, public domain, 70.20.283
This work is not currently on view.
Title

Hand Cross

Artist

Date

19th or 20th century

Medium

silver

Dimensions (H x W x D)

11 3/4 in x 4 3/4 in

Inscriptions & Markings

inscription: The inscription reads in translation "Jesus of Nazareth".

Collection Area

African Art

Category

Ethiopian

Ceremonial and Ritual Objects

Object Type

hand cross

Culture

Ethiopian

Credit Line

Gift of Gladys Calef Lawther

Accession Number

70.20.283

Copyright

public domain

Terms
The cross first appears as a Christian symbol in Ethiopia in the mid-fourth century, after the conversion of King Ezan of the Azumite Empire. Pagan symbols on minted coins proliferated in distinct styles of varying complexity and material. Functionally, there are three basic types: pendant, processional, and hand crosses. Pendant or neck crosses, worn by individuals as a personal expression of faith, are the smallest and most common. Processional crosses, the largest and often the most elaborate, are carried on poles to raise them above the heads of worshipers in religious processions or services. Hand crosses, also ecclesiastical, are carried by priests in religious services and public blessings.

This broad-footed cross, with symmetrical vertical and transverse arms narrowing at the center, is nearly lost in the ornate, interlacing lines that create its surrounding frame. Typical of many hand crosses, it includes at its base a smaller cross beneath the plate that provides space for designs or inscriptions. Both sides of the plate are engraved, with images of Mary and the infant Christ on the side illustrated here. Three sides of the handle are inscribed in Geez, the classical language of Ethiopia. The inscription shown reads in translation, "Jesus of Nazareth."