The Nativity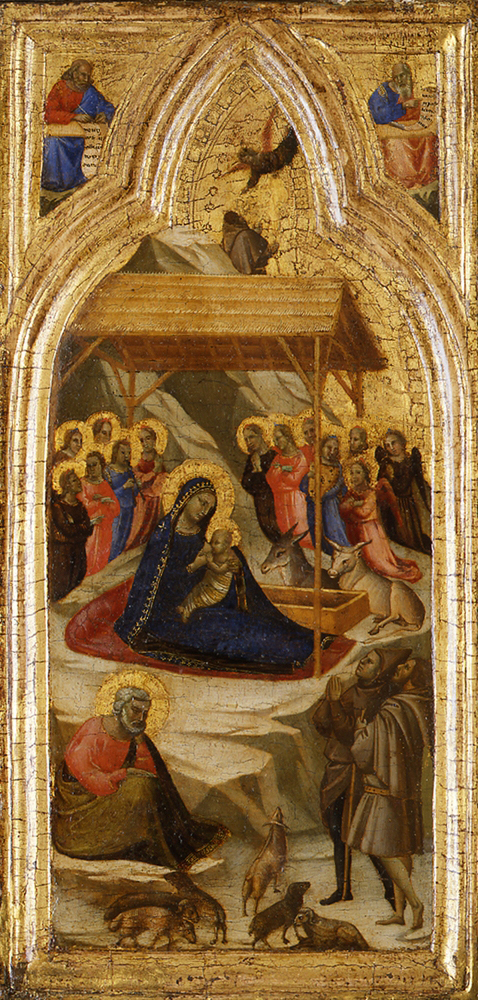 Taddeo Gaddi, The Nativity, 1335, paint and gold leaf on panel, Gift of Mrs. Charlotte A. Maser, public domain, 69.68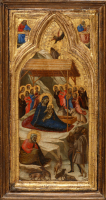 This work is on view.
Title

The Nativity

Artist

Date

1335

Period

Late Medieval (ca. 1250-ca. 1500)

Medium

paint and gold leaf on panel

Dimensions (H x W x D)

14 1/8 in x 7 in

Collection Area

European Art

Category

Paintings

Object Type

painting

Culture

Florentine

Credit Line

Gift of Mrs. Charlotte A. Maser

Accession Number

69.68

Copyright

public domain

Terms

Location
Gaddi was the godson, long-time assistant, and closest follower of Giotto, the great pioneer of the Florentine proto-Renaissance. This panel, which scholars believe is based on a work by Giotto, shows the master's influence in the use of solid pyramidal forms for the figures of Mary and Joseph and the convincing illusion of space around the figures, enhancing their three-dimensionality. Taddeo has also lessened the flatness of the tooled gold sky by making the uppermost shepherd and angel gesture toward each other diagonally across space.