Unparalleled Garden (Lychee Fruits)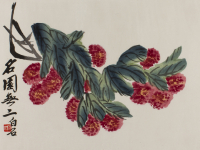 Qi Baishi, Unparalleled Garden (Lychee Fruits), 1945/1955, color woodblock print on paper, Gift of Donald and Mel Jenkins, © unknown, research required, 67.15.2
This work is not currently on view.
Title

Unparalleled Garden (Lychee Fruits)

Artist

Date

1945/1955

Medium

color woodblock print on paper

Dimensions (H x W x D)

image: 8 7/8 in x 12 1/16 in; sheet: 12 9/16 in x 17 in

Inscriptions & Markings

seal: 齊大, printed, lower left

signature: 白石, print, left edge

title: 名園無二, print, left edge

Collection Area

Asian Art; Graphic Arts

Category

Prints

Object Type

relief print

Culture

Chinese

Credit Line

Gift of Donald and Mel Jenkins

Accession Number

67.15.2

Copyright

© unknown, research required

Terms
Traditionally, the lychee fruit has been regarded as auspicious because the pronunciation of its name in Chinese: li (茘) is a homophone for the Chinese character for luck, li of jili (吉利). In Chinese lore, the lychee symbolizes fortune, good health and longevity, and the vitality of the nation and its people.

From 1902 to 1909, Baishi traveled extensively throughout China. It was during his stay in Qinzhou, a port at the southernmost part of the country, that he learned about lychee for the first time. It was love at first taste. Baishi said, "The peony is the king of flowers, and the lychee is the best among fruit."