La Visite à l'atelier. – Quel coloris!... (Visit to the Studio), plate 37 from Croquis parisiens (Parisian Sketches)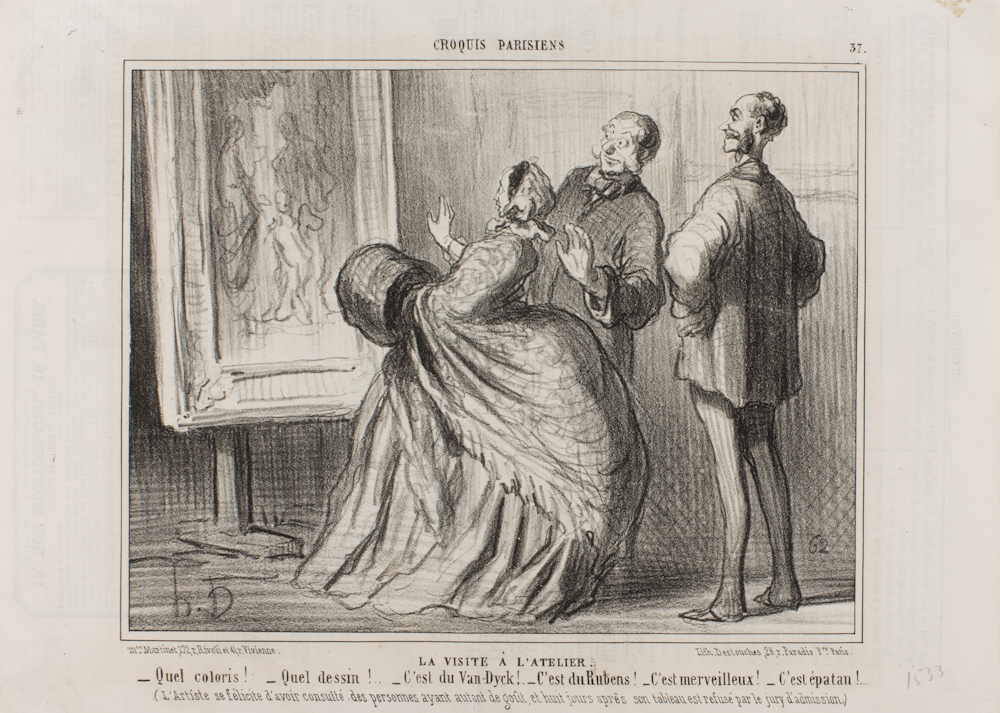 Honoré Daumier, La Visite à l'atelier. – Quel coloris!... (Visit to the Studio), plate 37 from Croquis parisiens (Parisian Sketches), 1857, lithograph on newsprint, Gift of Max W. Buhmann, public domain, 65.8
This work is not currently on view.
Title

La Visite à l'atelier. – Quel coloris!... (Visit to the Studio), plate 37 from Croquis parisiens (Parisian Sketches)

Related Titles

original language: La Visite a L'atelier

series (original language): Croquis parisiens

series (translated): Parisian Sketches

translated: Visit to the Studio

Artist

Related People

print publisher: Destouches (French, active 19th century)

Date

1857

Medium

lithograph on newsprint

State

2nd state

Catalogue Raisonné

Delteil 2953

Dimensions (H x W x D)

image: 8 in x 10 1/2 in; sheet: 10 in x 14 in

Inscriptions & Markings

signature/maker's mark: in image LL "h.D"

inscription: BC margin "La Visite à L'atelier"

Collection Area

Graphic Arts

Category

Prints

Object Type

planographic print

Culture

French

Credit Line

Gift of Max W. Buhmann

Accession Number

65.8

Copyright

public domain

Terms
Visit to the Studio !T!—What colors, what draftsmanship, it must be a Van Dyck—it's !T!a Rubens—it's marvelous—it's amazing. (The artist congratulates himself for having shown his painting to people of such good !T!taste…eight days later, his painting is refused by the jury.) !T!Published May 22, 1857, in Le Charivari

The Salon, the yearly art exhibitions in Paris, were juried art shows that attracted approximately one million visitors from Paris and the provinces. Hundreds of painters and sculptors exhibited. At the time, few independent art galleries existed, so the Salon was the most important way for artists to get their work seen. Rejection by the jury could spell disaster for an artist; once an artist was rejected from the Salon, he had very little chance to succeed commercially.