Bactrian Camel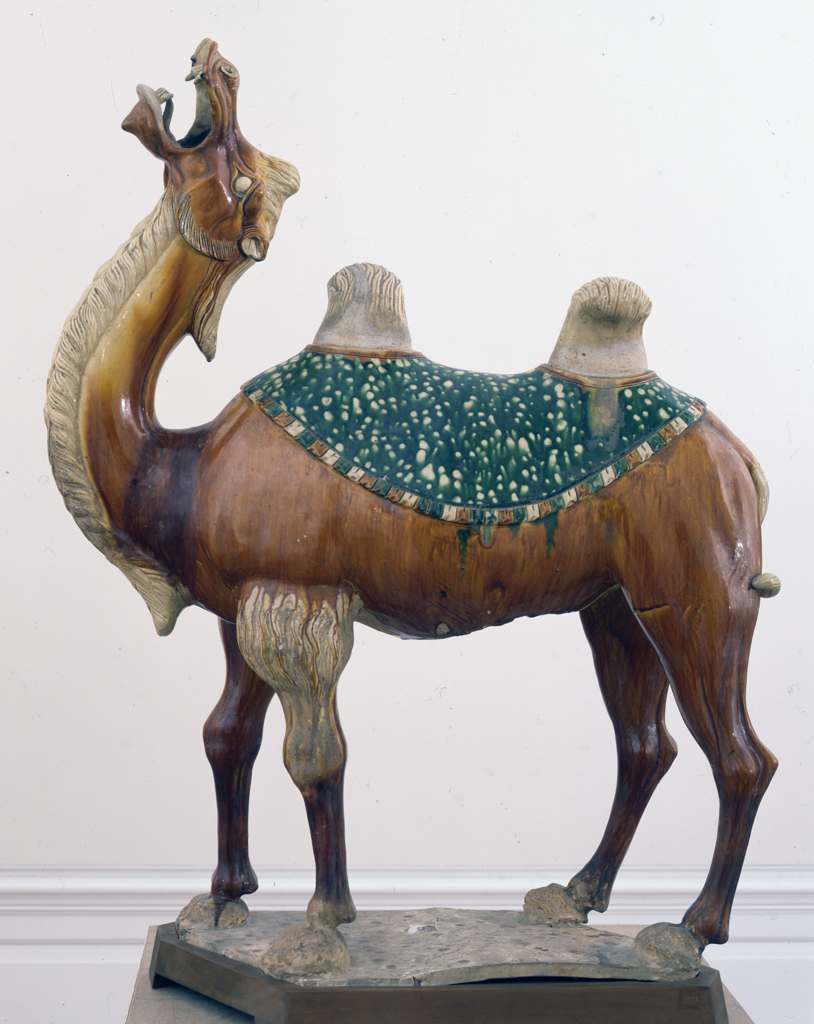 China, Shaanxi province, Bactrian Camel, 675/750, molded earthenware with sancai (three color) glaze, Museum Purchase: Funds provided by Miss Julia Blodgett, Mrs. Sara R. Blodgett, Miss Sarah W. Blodgett, Dr. and Mrs. William Corbin, Mr. and Mrs. Paul Feldenheimer, Mr. Eric Hoffman, Mrs. Joan Irwin Hoffman, Mrs. Lesley S. Miller, Mr. Aubrey Watzek, and Mrs. Donald F. Winter, public domain, 65.30
This work is on view.
Title

Bactrian Camel

Artist

Date

675/750

Period

China: Tang Dynasty (618-907 CE)

Medium

molded earthenware with sancai (three color) glaze

Dimensions (H x W x D)

35 in x 9 1/4 in x 28 in

Collection Area

Asian Art

Category

Ceramics

Sculpture

Object Type

funerary sculpture

figurine

Culture

Chinese

Credit Line

Museum Purchase: Funds provided by Miss Julia Blodgett, Mrs. Sara R. Blodgett, Miss Sarah W. Blodgett, Dr. and Mrs. William Corbin, Mr. and Mrs. Paul Feldenheimer, Mr. Eric Hoffman, Mrs. Joan Irwin Hoffman, Mrs. Lesley S. Miller, Mr. Aubrey Watzek, and Mrs. Donald F. Winter

Accession Number

65.30

Copyright

public domain

Terms

Location
This camel, with its arched neck and mouth open wide as it brays in discontent, is a particularly large and splendid example of sancai (pronounced san-tsai) ware, a type of earthenware pottery decorated with 'three colors' of glaze. Sancai ware flourished from the late 7th to the mid-8th century, when the Tang dynasty was at its height of prosperity and power. In this example, the rich amber-brown glaze of the camel's coat, which turns to straw yellow where it thins, and the speckled yellow and moss-green glazes of the saddle blanket, are especially fine.

Like the other ceramic sculptures on view in this gallery, this camel was made to be placed a tomb as a symbolic way to provide the deceased with goods for the afterlife. The size of funerary sculptures was regulated by law: larger pieces such as this one would have been exclusively for higher-ranking members of the Tang aristocracy. The double-humped Bactrian camel, used to bring in exotic trade goods from distant Persia, was a popular subject for tomb figurines, as it evokes both wealth and the comforts of luxury goods.