Portrait of a Young Man Holding a Carnation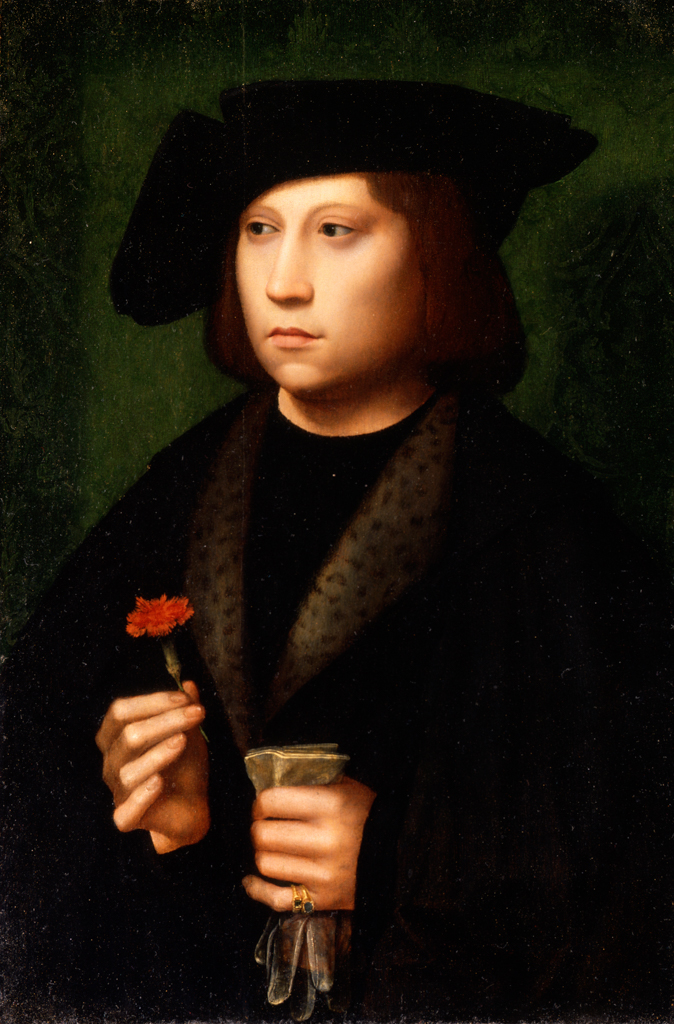 Adrien Ysenbrandt, Portrait of a Young Man Holding a Carnation, 1520/1530, oil on panel, Gift of the Honorable George Rossman in memory of his wife, Loreta Showers Rossman, public domain, 65.18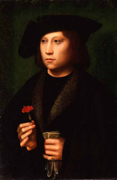 This work is on view.
Title

Portrait of a Young Man Holding a Carnation

Artist

Date

1520/1530

Period

Late Renaissance (mid-late 16th century)

Medium

oil on panel

Dimensions (H x W x D)

18 7/8 in x 12 1/8 in

Collection Area

European Art

Category

Paintings

Object Type

painting

Culture

Flemish

Credit Line

Gift of the Honorable George Rossman in memory of his wife, Loreta Showers Rossman

Accession Number

65.18

Copyright

public domain

Terms

Location
In his time, Adrien Ysenbrant was the most successful painter in Bruges, noted for his exemplary craftsmanship and his exceptional deftness with even the most commonplace details. His subject matter varied, from Madonnas in serene landscapes to portraits of well-to-do citizens and their wives.

This portrait of a well-dressed young man was most likely painted for a prospective bride. The sitter's ermine collar, elegant gloves, and ring suggest affluence and social status. In his right hand he holds a carnation, a common symbol of the period for passion and betrothals. Ysenbrant's delicate technique and attention to fine detail are evident in the tiny individual strokes for each of the flower's petals, the transparency of the gloves, and the careful, lifelike modeling of the sitter's face and hands.