Nanban byôbu (Southern Barbarians in Japan)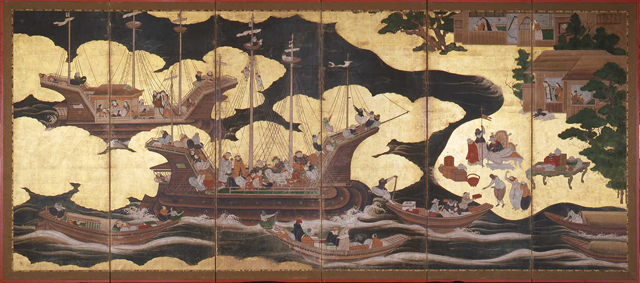 Kano School, Nanban byôbu (Southern Barbarians in Japan), 1630/1650, pair of six-panel screens; ink, mineral pigments, and gold on paper, Gift of Margery Hoffman Smith, public domain, 64.13A,B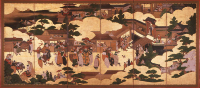 This work is not currently on view.
Title

Nanban byôbu (Southern Barbarians in Japan)

Related Titles

display title: Namban byôbu (Southern Barbarians in Japan)

original language: 南蛮屏風

translated: Southern Barbarians in Japan

transliterated: Namban byôbu

Artist

Date

1630/1650

Period

Japan: Edo period (1615-1868)

Medium

pair of six-panel screens; ink, mineral pigments, and gold on paper

Dimensions (H x W x D)

67 in x 146 in

Collection Area

Asian Art

Category

Paintings

Object Type

folding screen

Culture

Japanese

Credit Line

Gift of Margery Hoffman Smith

Accession Number

64.13A,B

Copyright

public domain

Terms
In 1542, Japan had its first contact with Europe when three Portuguese on a Chinese junk were shipwrecked in Japan. Seven years later, the Jesuit Francis Xavier arrived in Kyūshū, Japan's westernmost island, and began to win converts to Catholicism among the samurai elite. Portuguese merchants followed in his wake and, despite some competition dominated European-Japanese trade for nearly a century.

Because the Portuguese came to Japan from their colonial outposts in Java, the Japanese called them the "Southern Barbarians." The Japanese were fascinated by these monstrously tall foreigners with enormous noses and bizarre costumes. From the late 16th to the mid-17th century, large-scale screen paintings such as this pair depicting the Portuguese arriving in port were much in vogue. The typical composition portrays the Japanese shore on the right and the ocean on the left, as here.

At right, Japanese men and women look on as the ship captain and his entourage make their way into town, while on the left, two high-decked ships ply the waves. One fanciful note is that the more distant ship carries female passengers. In fact, foreign women were forbidden to disembark in Japan—a policy designed to discourage foreigners from settling in for the long term. This artist imagines a bevy of European women, but since neither he nor any other Japanese had ever seen one, he depicts them with Chinese-style costumes and coiffures.