Willow Tree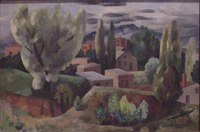 Bror Julius Olsson Nordfeldt, Willow Tree, ca. 1931, oil on canvas, Gift of Reverend and Mrs. Bernard Geiser, © unknown, research required, 62.3
This work is on view.
Title

Willow Tree

Artist

Date

ca. 1931

Medium

oil on canvas

Dimensions (H x W x D)

24 in x 36 in

Collection Area

American Art

Category

Paintings

Object Type

painting

Culture

American

Credit Line

Gift of Reverend and Mrs. Bernard Geiser

Accession Number

62.3

Copyright

© unknown, research required

Terms

Location
Norfeldt immigrated to the United States from Sweden in 1891, and later enrolled at the Art Institute of Chicago. He traveled to Europe while assisting muralist Albert Herter (1871-1950) with his work for the Paris Exhibition of 1900, and remained to study at the Academie Julian, and later, printmaking in London. (He would eventually develop the "white line" printing technique.) He was deeply influenced by Fauvist color, by the expressive distortions of El Greco, and by the geometric simplification of forms of Cezanne, especially evident in The Willow.

Returning to the United States in 1903, Nordfeldt's greatest inspiration came from its vastly different regions including New Jersey, California, Santa Fe, and Minnesota. A constant feature throughout his career was his love of nature and his desire to express the unique feelings that resulted from each location he visited. He infused his subjects with energy by reducing the landscape to basic forms and emphasizing its repetitive elements, both natural and manmade. His career reflects the changing artistic tendencies in American art from the late 19th through the early 20th century.