Madonna Surrounded by Saints (The Aldobrandini Triptych)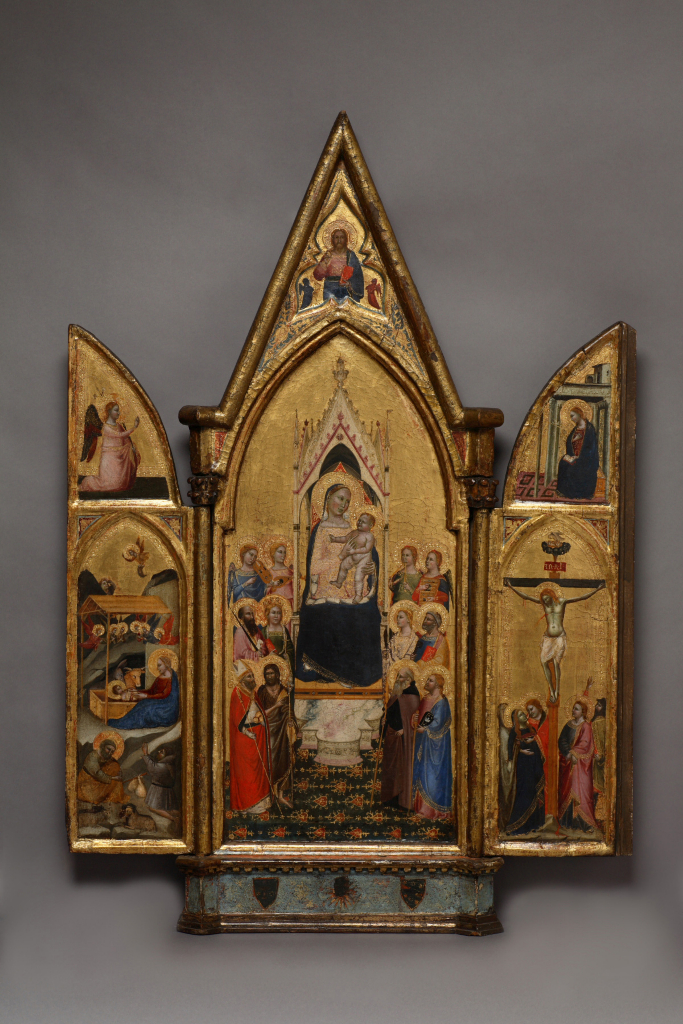 follower of Bernardo Daddi, Madonna Surrounded by Saints (The Aldobrandini Triptych), ca. 1336, tempera on wood, Gift of the Samuel H. Kress Foundation, public domain, 61.51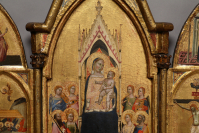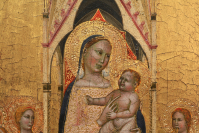 This work is on view.
Title

Madonna Surrounded by Saints (The Aldobrandini Triptych)

Artist

Date

ca. 1336

Period

Early Renaissance (mid-14th-mid-15th century)

Medium

tempera on wood

Dimensions (H x W x D)

37 1/2 in x 26 in x 3 in

Collection Area

European Art

Category

Paintings

Object Type

painting

Culture

Florentine

Credit Line

Gift of the Samuel H. Kress Foundation

Accession Number

61.51

Copyright

public domain

Terms

Location
Portable three-part altarpieces were used in private or domestic settings in early Renaissance Italy for personal religious devotions. This triptych was associated with the Aldobrandini family, whose coat of arms appears on the base of the central panel, and is considered a work by a follower of Bernardo Daddi (ca.1280-1348). Daddi was an apprentice of Giotto and the leading painter of Florence during his generation.

The gold background and the iconography, typical for the period, were inherited from the Byzantine tradition. In the central panel, the Madonna enthroned is surrounded by a series of saints, each identified by an attribute or symbol. Behind the saints, a row of music-making angels suggests divine harmony and a blessing Christ appears in the gable above. The left panel features the Nativity with an angel above it, and on the right, the Crucifixion of Christ with the Virgin of the Annunciation.