Madonna and Child with Donors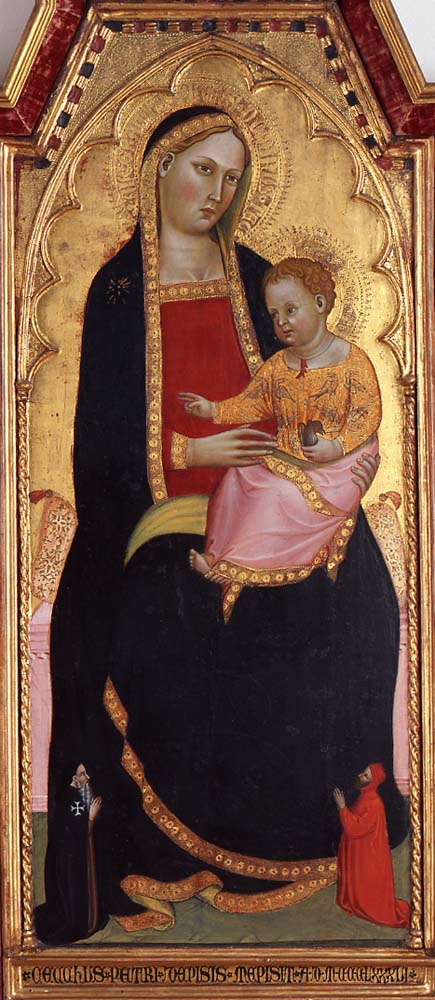 Cecco di Pietro, Madonna and Child with Donors, 1386, tempera on wood, Gift of The Samuel H. Kress Foundation, public domain, 61.44

This work is on view.
Title

Madonna and Child with Donors

Artist

Date

1386

Period

Late Medieval (ca. 1250-ca. 1500)

Medium

tempera on wood

Dimensions (H x W x D)

48 3/4 in x 21 in

Inscriptions & Markings

inscription: Cecchus Petri de Pisis Mepisit AD MCCCLXXXVI (Cecchus Petro of Pisa [mepisit] 1386), painted in media, along bottom of painting frame Language: medieval Latin Description: artist inscription

Collection Area

European Art

Category

Paintings

Object Type

painting

Culture

Italian

Credit Line

Gift of The Samuel H. Kress Foundation

Accession Number

61.44

Copyright

public domain

Terms

Place Made

Created in: Pisa

Location
This symbolic and richly ornamented panel reflects the continuation of Italo-Byzantine conventions in the early Renaissance. The repetition of color creates a pattern which is enhanced by the elaborately tooled gold haloes and borders. In the panel, Jesus holds a goldfinch, a symbol of his future sacrifice, and wears a coral amulet as protection against evil.

Two donors, one a Knight of Malta, and the other possibly a high-ranking official, kneel in the lower corners. These early examples of portraiture illustrate the increasing importance of the individual during the Renaissance. However, their placement at the periphery and tiny scale serve to confirm the difference in status between the human and the divine that persisted in the fourteenth-century collective conscience.