The Entombment of Christ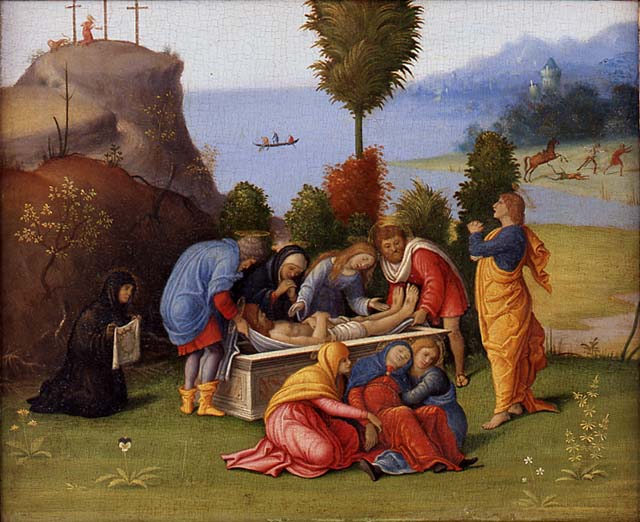 Giovanni Francesco Caroto, The Entombment of Christ, 1510, oil on wood, Gift of The Samuel H. Kress Foundation, public domain, 61.42
This work is on view.
Title

The Entombment of Christ

Artist

Date

1510

Period

High Renaissance (late 15th-1520s)

Medium

oil on wood

Dimensions (H x W x D)

11 3/4 in x 14 in

Collection Area

European Art

Category

Paintings

Object Type

painting

Culture

Italian

Credit Line

Gift of The Samuel H. Kress Foundation

Accession Number

61.42

Copyright

public domain

Terms

Location
Renaissance painters were frequently called upon to depict complex religious images that combine several incidents in a single frame. In The Entombment of Christ, Giovanni Francesco Caroto unified disparate events in a broad, deep landscape in which spatial distance indicates separation in time. In the foreground is the burial of Jesus, attended by several mourners including St. Veronica, who holds the veil imprinted with Christ's image. The background scenes are from various earlier and later episodes in the Christian story: On the lake is the Miraculous Draught of Fishes; on the right, the Conversion of St. Paul; and kneeling on the hill is St. Jerome, who translated the Bible into Latin in the fourth century.