The Crucifixion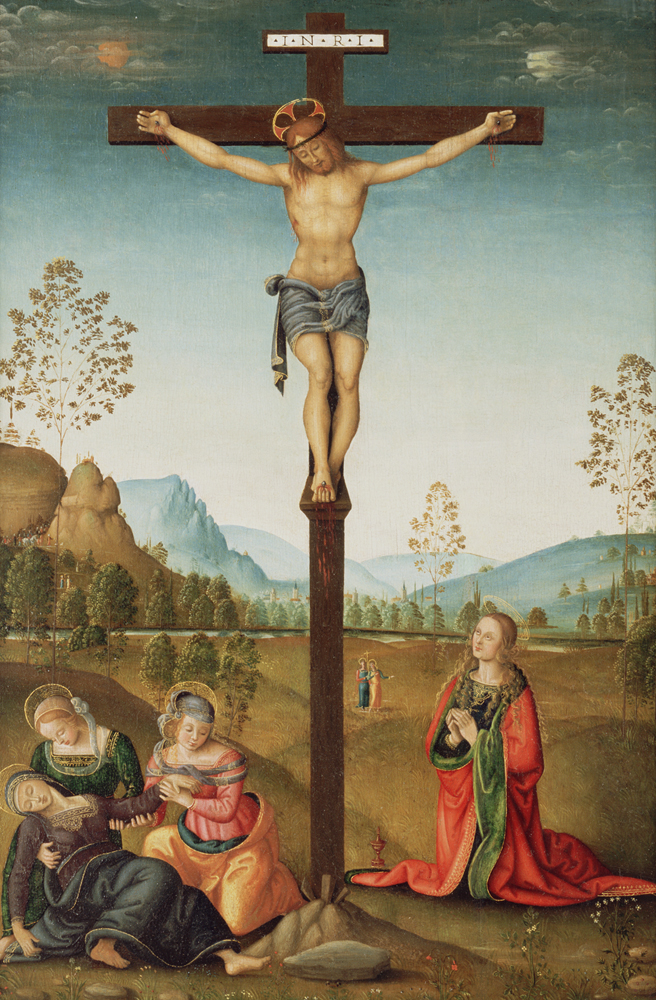 Giannicola di Paolo, The Crucifixion, 1520, tempera on wood, Gift of The Samuel H. Kress Foundation, public domain, 61.37
This work is on view.
Title

The Crucifixion

Artist

Date

1520

Period

High Renaissance (late 15th-1520s)

Medium

tempera on wood

Dimensions (H x W x D)

23 1/8 in x 14 1/2 in

Collection Area

European Art

Category

Paintings

Object Type

painting

Culture

Italian

Credit Line

Gift of The Samuel H. Kress Foundation

Accession Number

61.37

Copyright

public domain

Terms

Place Made

Created in: Umbria

Location
Christ is shown on the cross above an open landscape. On the left two holy women support the swooning Virgin, who wears a purple dress and a blue cloak. Below, on the right, kneels the Magdelen, her hands clasped in prayer. A jar of ointment stands on the ground beside her. In the background Saint John the Baptist and a companion can be seen in a meadow, and in the distance beyond a river, a town in a valley.