Madonna and Child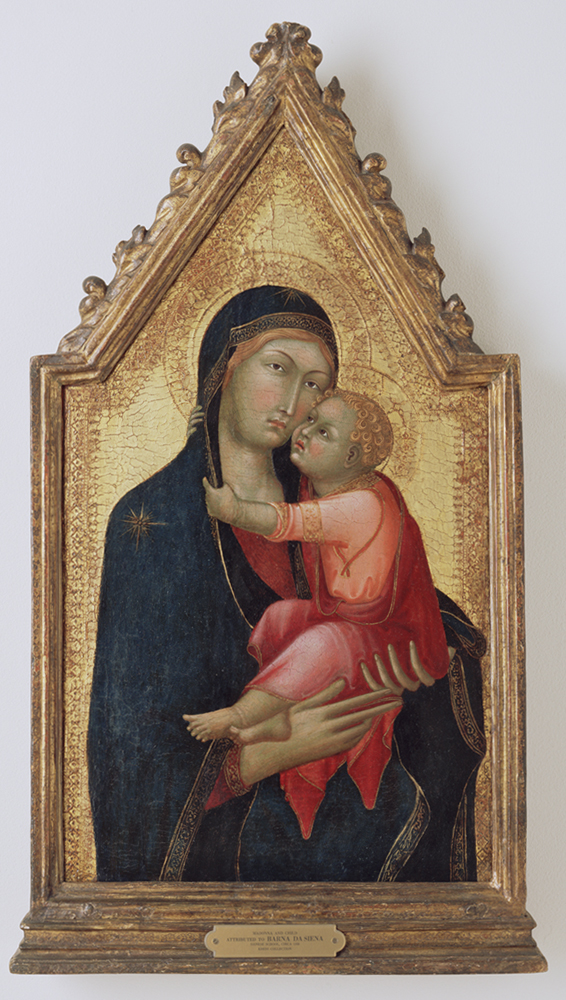 Barna da Siena, Madonna and Child, 1350, tempera on wood, Gift of The Samuel H. Kress Foundation, public domain, 61.35
This work is on view.
Title

Madonna and Child

Artist

Date

1350

Period

Early Renaissance (mid-14th-mid-15th century)

Medium

tempera on wood

Dimensions (H x W x D)

28 5/16 in x 16 1/2 in

Collection Area

European Art

Category

Paintings

Object Type

painting

Culture

Italian

Credit Line

Gift of The Samuel H. Kress Foundation

Accession Number

61.35

Copyright

public domain

Terms

Place Made

Created in: Siena

Location
Early Renaissance paintings such as this Madonna and Child often have a greenish cast in the flesh tones, where the original base color shows through. Artists discovered that in egg tempera (a mixture of pigment and egg yolk), base tones of pink or cream created chalky, lifeless effects. However, if they used the complementary color, green, and applied pink tones over the green base, the result was a warm, lifelike flesh color. Often an artist allowed some of the green tone to show at the edges of shadows to create modeling. In some cases the undercoat has become more evident with age and the application of varnish, which makes the top layer of paint more transparent.