The Resurrection of Drusiana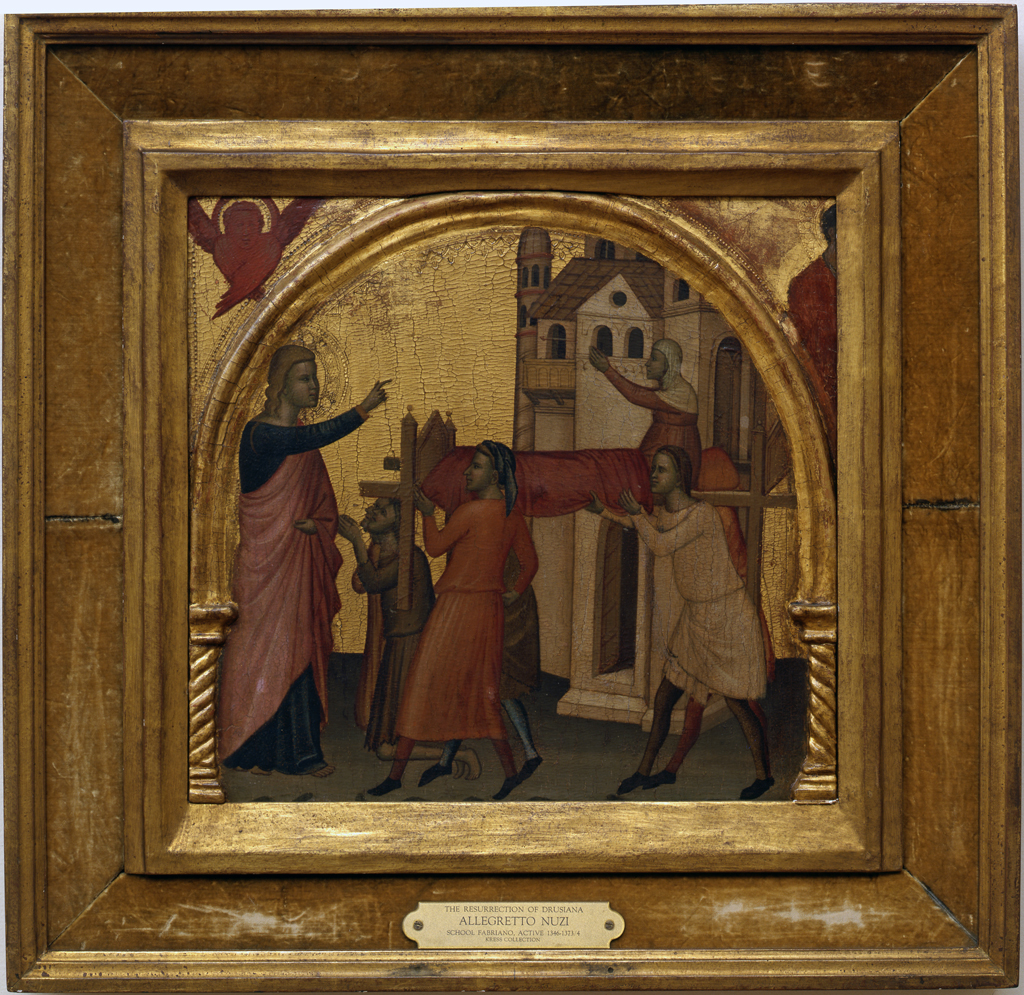 Francescuccio Ghissi, The Resurrection of Drusiana, ca. 1370, tempera on wood, Gift of The Samuel H. Kress Foundation, public domain, 61.32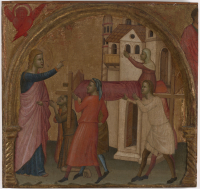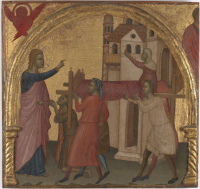 This work is on view.
Title

The Resurrection of Drusiana

Artist

Date

ca. 1370

Period

Early Renaissance (mid-14th-mid-15th century)

Medium

tempera on wood

Dimensions (H x W x D)

13 1/2 in x 14 1/2 in

Collection Area

European Art

Category

Paintings

Object Type

painting

Culture

Italian

Credit Line

Gift of The Samuel H. Kress Foundation

Accession Number

61.32

Copyright

public domain

Terms

Location
Ghissi here portrays St. John the Evangelist meeting the funeral cortege of Drusiana, one of his devoted followers. He cries, "Drusiana, my Master raises thee to life!" At his words, she sits upright on her bier, hands raised in response. This panel was once part of an altarpiece composed of eight panels originally arranged in two tiers surrounding a large central painting of the Crucifixion. These eight smaller scenes illustrate stories from the 13th century text of the Golden Legend. The Crucifixion is now in the collection of the Art Institute of Chicago; other small panels are held by the Metropolitan Museum of Art, New York, and the North Carolina Museum of Art, Raleigh.

The slender, two-dimensional figures, painted on a gold ground, follow the International Gothic style practiced in Fabriano, a northern Italian city in the region of the Marches. The altarpiece was first ascribed to Allegretto di Nuzi, and more recently to his contemporary, Francescuccio Ghissi.