Saint Francis Receiving the Stigmata

Carlo Crivelli, Saint Francis Receiving the Stigmata, 1490, tempera on wood, Gift of The Samuel H. Kress Foundation, public domain, 61.30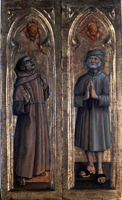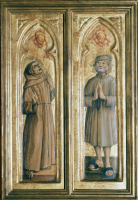 This work is on view.
Title

Saint Francis Receiving the Stigmata

Artist

Date

1490

Period

High Renaissance (late 15th-1520s)

Medium

tempera on wood

Dimensions (H x W x D)

19 in x 5 3/4 in

Collection Area

European Art

Category

Paintings

Object Type

painting

Culture

Italian

Credit Line

Gift of The Samuel H. Kress Foundation

Accession Number

61.30

Copyright

public domain

Terms

Location
These two panels [61.30 and 61.31] formed part of a large altarpiece. Such multi-panel works, called polyptychs, were Crivelli's specialty and much appreciated by his patrons. A native of Venice, his conviction on an adultery charge caused him to relocate from the urbane Venice to the provinces along the Adriatic coast. While his more avant-garde contemporaries explored illusionistic perspective, Crivelli carried on the Gothic tradition, which we see here in the arched panels with their gold grounds. Despite his conservatism, he developed a highly personal style of rendering figures with intense expressions, long-fingered hands, and big knobby-toed feet, bringing an arresting realism to his work.