Portrait of the Emperor Maximilian I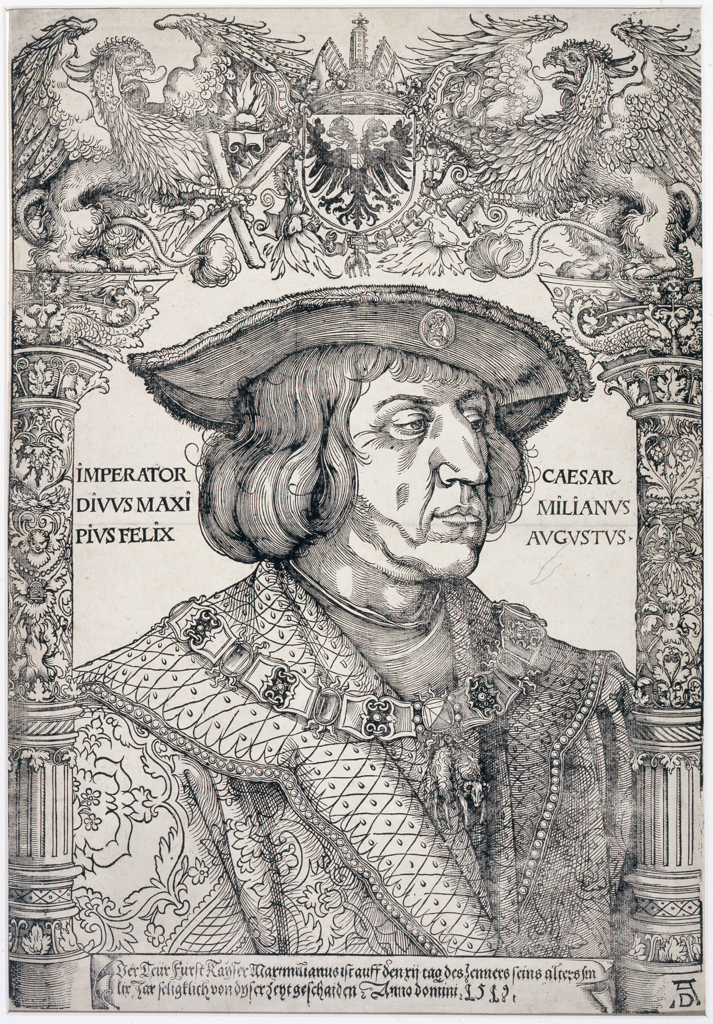 frame by Hans Weiditz, II; portrait after Albrecht Dürer, Portrait of the Emperor Maximilian I, 1518-1519, woodcut on paper, Gift of Dr. and Mrs. Edwin Binney, 3rd, public domain, 61.25
This work is not currently on view.
Title

Portrait of the Emperor Maximilian I

Artist

Date

1518-1519

Period

High Renaissance (late 15th-1520s)

Medium

woodcut on paper

Dimensions (H x W x D)

sheet: 22 1/2 in x 15 1/4 in

Inscriptions & Markings

signature/maker's mark: monogram, lower left

Collection Area

Graphic Arts

Category

Prints

Object Type

relief print

Culture

German

Credit Line

Gift of Dr. and Mrs. Edwin Binney, 3rd

Accession Number

61.25

Copyright

public domain

Terms
During the Diet of Augsburg on June 28, 1518, Dürer made a portrait drawing of the Holy Roman Emperor Maximilian I (1459-1519). This drawing provided the design for a woodcut as well as for two painted portraits now in Nuremberg and Vienna. A realistic yet sympathetic likeness, the bust-length image, with the emperor turned slightly away from the viewer, captures his benevolent nature, dignified aloofness, and fatigue. Less than a year later, on February 12, 1519, Maximilian I died from jaundice and exhaustion. The sole imperial adornment that he wears is the collar of the Order of the Golden Fleece. In this woodcut, Dürer creates a decorative effect through the strongly linear treament of the details of the Madonna image on the emperor's hatpin, the lozenge motif on his lapels, and the pomegranate design on the coat's fabric.