Portrait of My Teacher, Fräulein Sophie von Prieser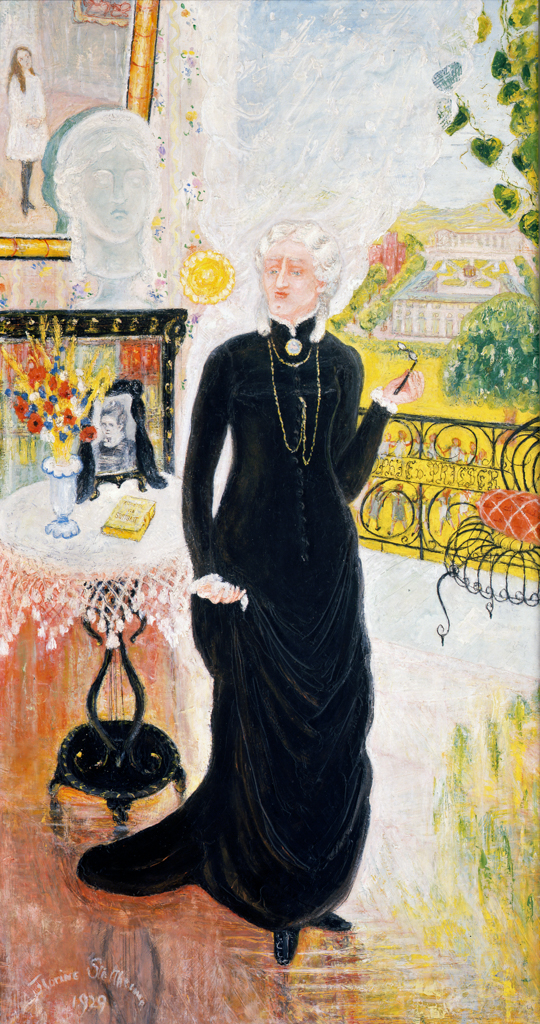 Florine Stettheimer, Portrait of My Teacher, Fräulein Sophie von Prieser, 1929, oil on canvas, Gift of the Ettie Stettheimer Estate, public domain, 57.14
This work is on view.
Title

Portrait of My Teacher, Fräulein Sophie von Prieser

Artist

Date

1929

Medium

oil on canvas

Dimensions (H x W x D)

38 in x 20 in

Inscriptions & Markings

date: Summer 1929, brushed, stretcher verso bottom

inscription; artist's initials: F. S., brushed, stretcher verso left side

inscription; title; artist's name: Frln. von Prieser by Florine Stettheimer, brushed, stretcher verso top

signature; date: Florine Stettheimer // 1929, brushed, lower left

Collection Area

American Art

Category

Paintings

Object Type

painting

Culture

American

Credit Line

Gift of the Ettie Stettheimer Estate

Accession Number

57.14

Copyright

public domain

Terms

Location
Influenced by such artists as Marcel Duchamp, Henri Matisse, and Charles Demuth, Florine Stettheimer combined seemingly naïve elements with a sophisticated awareness of modernism. Stettheimer's paintings are characterized by bright, pure colors, a thick buildup of Chinese white pigment, and a strongly calligraphic use of line. In 1928 and 1929, Stettheimer completed a number of portraits of people from her childhood, including her governess, Fraülein von Prieser. The formidable, black-clad figure contrasts with the fanciful touches and brilliant, often discordant colors of her environment. Stettheimer has placed herself in the picture as a pensive, composed schoolgirl, reflected in the mirror above the mantel.