Shiva Natarāja (Shiva as Lord of the Dance)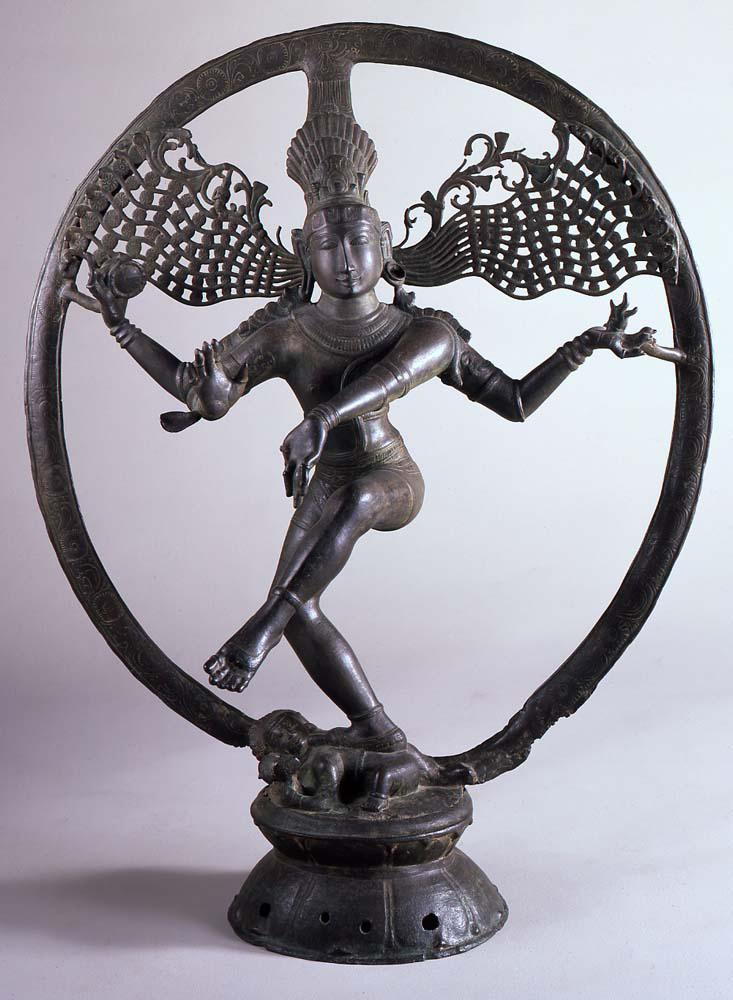 India, Tamil Nadu, Shiva Natarāja (Shiva as Lord of the Dance), 12th century or later, copper alloy, Museum Purchase: Helen Thurston Ayer Fund, public domain, 56.12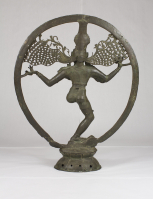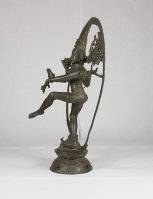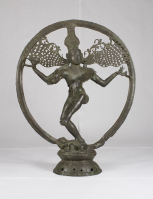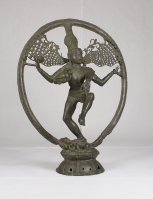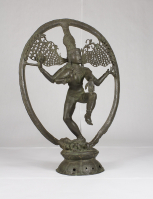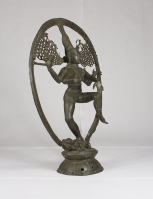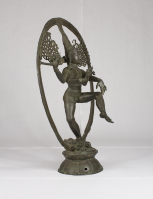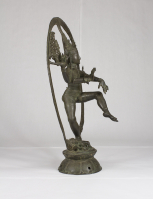 This work is on view.
Title

Shiva Natarāja (Shiva as Lord of the Dance)

Related Titles

original language: Shiva Natarāja

translated: Shiva as Lord of the Dance

Artist

Date

12th century or later

Medium

copper alloy

Dimensions (H x W x D)

36 1/2 in x 29 1/4 in x 15 1/2 in

Collection Area

Asian Art

Category

Sculpture

Object Type

sculpture

Culture

Indian

Credit Line

Museum Purchase: Helen Thurston Ayer Fund

Accession Number

56.12

Copyright

public domain

Terms

Place Made

Created in: Tamil Nadu

Location
In classical Indian culture, dance is a demanding physical discipline. By inducing a state of trance, dance prepares the mind for spiritual leaps. The dancer and the dance become one, re-enacting the union of the individual soul with the transcendent divine. The great Hindu god Shiva, the ultimate yogi, is also the Lord of the Dance, Natarāja.

In his cosmic dance, Natarāja destroys the old universe and creates it anew, the beat of his drum and footsteps marking the pace of cyclical time.

The royal family of the Chola dynasty, rulers of a vast wealthy empire in south India, chose Natarāja as their clan deity in the mid-tenth century. Under Chola patronage, sculpted images of Natarāja reached new heights of aesthetic and technical sophistication. While temple icons were carved from granite, bronze sculptures such as this one were reserved for use in sacred processions. When taken on parade, the icon would have been covered in many layers of colorful silks and flowers.

The symbolism of the Natarāja figure is beautifully expressed in a Chola-period poem:

The sound of his sacred drum awakens the cosmos into being; his uplifted hand of hope sustains and protects it; with his purifying fire, ego is destroyed; his foot planted on the ground is an abode of rest for the tired soul, caught in the binds of illusion; and his lifted foot promises release.