Late Reminder, from Homage to the Square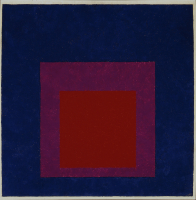 Josef Albers, Late Reminder, from Homage to the Square, 1953, oil on Masonite, Gift of Mrs. William S. Ladd, © artist or other rights holder, 55.165
This work is on view.
Title

Late Reminder, from Homage to the Square

Related Titles

display title: Late Reminder

series (original language): Homage to the Square

Artist

Date

1953

Medium

oil on Masonite

Dimensions (H x W x D)

18 1/2 in x 18 1/2 in

Inscriptions & Markings

title; signature; date; inscription: "Late Reminder" [underlined] // (Homage to the Square) // Albers '53 // 18x18 [encircled] // Ground: 6 coats of [illeg.] with addition of // linseed oil [illeg.] + Turpentine // [line] // Painting: Colors used (from center [underlined]): // Cadmium Red Extra Scarlet [underlined] (Shiva) // Cobalt Blue [underlined; see description] (Winsor + Newton) // Turquoise Blue [underlined] (Greco) // all in one primary coat // [illeg.] from the tube [illeg.] // additional painting [illeg.] // [line] // Varnish: [illeg.] 44 (Ru[illeg.]) [illeg. underlined] in Xylene, // sprayed on // [double line], ink, verso Description: Correspondence from Albers Foundation describes the middle color as "Cobalt Violet (Winsor and Newton)." (See attached documentation.)

signature; date: A53, etched, bottom right

Collection Area

Modern and Contemporary Art

Category

Paintings

Object Type

painting

Culture

German

Credit Line

Gift of Mrs. William S. Ladd

Accession Number

55.165

Copyright

© artist or other rights holder

Terms

Location
A student, then an instructor, at the legendary Bauhaus in Germany, Albers immigrated to the United States during World War II and taught at Yale and Black Mountain College in North Carolina. One of the preeminent colorists of the 20th century, Albers was among the first artists to use an extended series of the same compositional format to explore the physical and perceptual qualities of color. His Hommage to the Square series, of which this painting is part, lasted over forty years and became a landmark of modernism.