The Oarsmen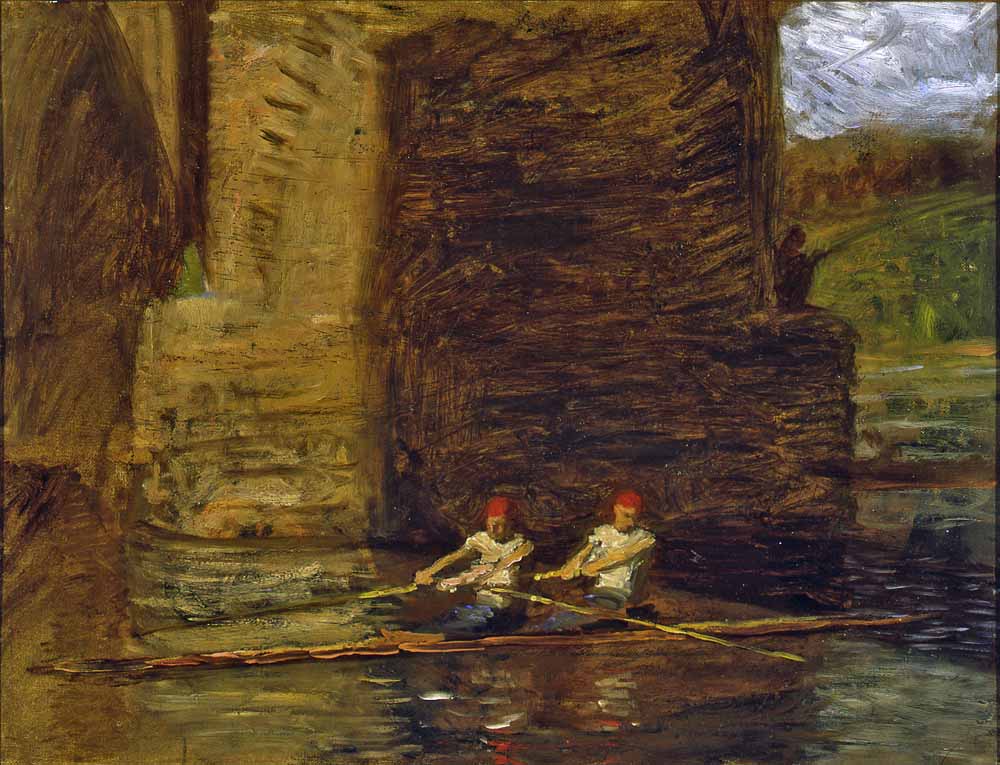 Thomas Eakins, The Oarsmen, ca. 1873, oil on canvas, Bequest of Mrs. Blanche Hersey Hogue, public domain, 54.19
This work is on view.
Title

The Oarsmen

Artist

Date

ca. 1873

Medium

oil on canvas

Dimensions (H x W x D)

14 in x 18 in

Inscriptions & Markings

signature: signed

Collection Area

American Art

Category

Paintings

Object Type

painting

Culture

American

Credit Line

Bequest of Mrs. Blanche Hersey Hogue

Accession Number

54.19

Copyright

public domain

Terms

Location
In Eakins's time, the sport of rowing was a new and swiftly growing sport in America. Unlike in England, where the sport began, American rowing was not restricted to the wealthy. As the country became industrialized, public sport became an important institution. The superstars of rowing included men from all classes of society, a fact which Eakins appreciated and celebrated in his art. Committed to pursuing excellence and to hard work, he considered the rowers as symbolic of America's egalitarian spirit.

Eakins's attachment to the subject of rowing was enhanced by his own experience as an enthusiastic amateur oarsman. He also had a thorough scientific knowledge of the human figure. He was especially interested in how to depict the physical motions of rowing and how to calculate accurate and convincing perspectives, combining closely observed foreground figures and deep space. For each picture, he painstakingly prepared perspective drawings and other preliminary sketches, methodically investigating various pictorial problems. Eakins produced nearly thirty rowing pictures between 1871 and 1874, and introduced the sport as a serious subject for art.