Cabbage Leaf, from The Fiftieth Anniversary Portfolio: 1902-1952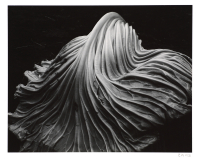 Edward Weston, Cabbage Leaf, from The Fiftieth Anniversary Portfolio: 1902-1952, 1931 (negative); 1951 (print), gelatin silver print, Museum Purchase: Caroline Ladd Pratt Fund, © unknown, research required, 52.149.1
This work is not currently on view.
Title

Cabbage Leaf, from The Fiftieth Anniversary Portfolio: 1902-1952

Related Titles

original language: Cabbage Leaf

portfolio (original language): The Fiftieth Anniversary Portfolio: 1902-1952

Artist

Date

1931 (negative); 1951 (print)

Medium

gelatin silver print

Edition

edition of 100

Dimensions (H x W x D)

image/sheet: 7 9/16 in x 9 1/2 in

Collection Area

Photography

Category

Books, Portfolios, and Manuscripts

Photographs

Object Type

photograph

Culture

American

Credit Line

Museum Purchase: Caroline Ladd Pratt Fund

Accession Number

52.149.1

Copyright

© unknown, research required

Terms
Weston, renowned for his detailed and luxurious photographs of sand dunes, vegetables, and nudes, assembled twelve diverse images for this anniversary portfolio. The locations where he made the images—California, Louisiana, New York, Tennessee, and Mexico—are equally varied.

Weston skillfully printed from large-format negatives for much of his life, but prints in The Fiftieth Anniversary Portfolio were made by Weston's son, Brett, who first exhibited his own photographs alongside his father's at age fourteen. By the late 1940s, as the elder Weston's Parkinson's disease advanced, Brett became his primary printer. Additional assistants to the project included Weston's youngest son, Cole; Brett's wife, Dody; and photographers Morley and Frances Baer, who were close friends.

Although the earliest image in the portfolio dates to 1924, Weston received his first camera as a gift from his father in 1902, prompting the fiftieth anniversary title.

Celebrating the fifty years since Edward Weston received his first camera, The Fiftieth Anniversary Portfolio features a range of his most successful subjects, but image selection was a difficult process for the prolific photographer. Weston explained, "I was faced with a great decision, that of choosing twelve photographs to represent fifty years of work. Impossible! Yet it had to be done. Question finally came, should I choose on a historical basis, or should the choice be based on the photograph's value regardless of date? I decided on the latter approach…. As to the audience who will own or see this Portfolio, some will be below me on the ladder of growth, some on the same rung, others above me looking down. To all I hope these photographs will add some new note to their experience."