Head of a Buddha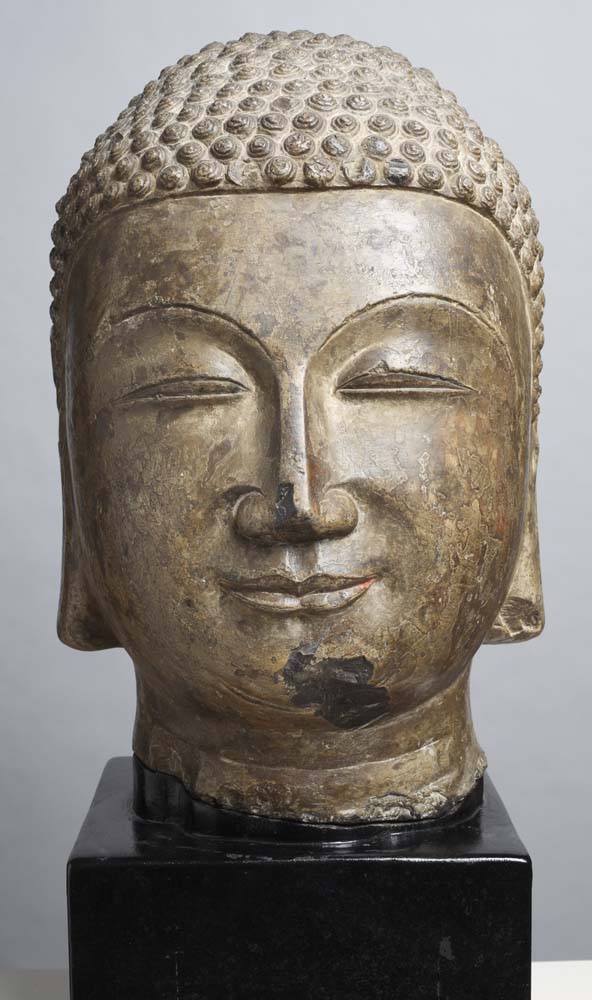 China, Hebei province, Xiangtangshan, Head of a Buddha, 560 CE, limestone, Gift of Mr. Cornelius Ruxton Love, Jr., public domain, 51.255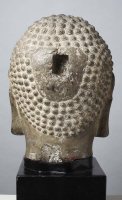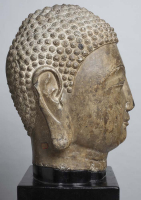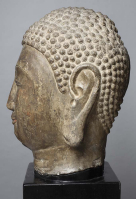 This work is on view.
Title

Head of a Buddha

Artist

Date

560 CE

Period

China: Northern Qi Dynasty (550-577 CE)

Medium

limestone

Dimensions (H x W x D)

17 1/8 in x 11 1/4 in x 12 5/8 in

Collection Area

Asian Art

Category

Sculpture

Object Type

sculpture

Culture

Chinese

Credit Line

Gift of Mr. Cornelius Ruxton Love, Jr.

Accession Number

51.255

Copyright

public domain

Terms

Location
According to Buddhist tradition, when the young prince Sakyamuni resolved to seek spiritual enlightenment, he discarded his courtly garments and cut off his long hair. In Indian and East Asian sculpture, the tonsured Buddha is occasionally shown as bald, but more often he is portrayed as seen here, with a head of tiny, snail-shaped curls. This head of a Buddha was originally part of an impressive sculptural diorama of life-size figures carved into the living rock at Xiangtangshan (Mountain of Echoing Halls), a site not far from the Northern Qi capital of Ye. More than ten caves were excavated at Xiangtangshan during the third quarter of the sixth century, under the patronage of the Northern Qi ruling family and nobles.