Warrior Figure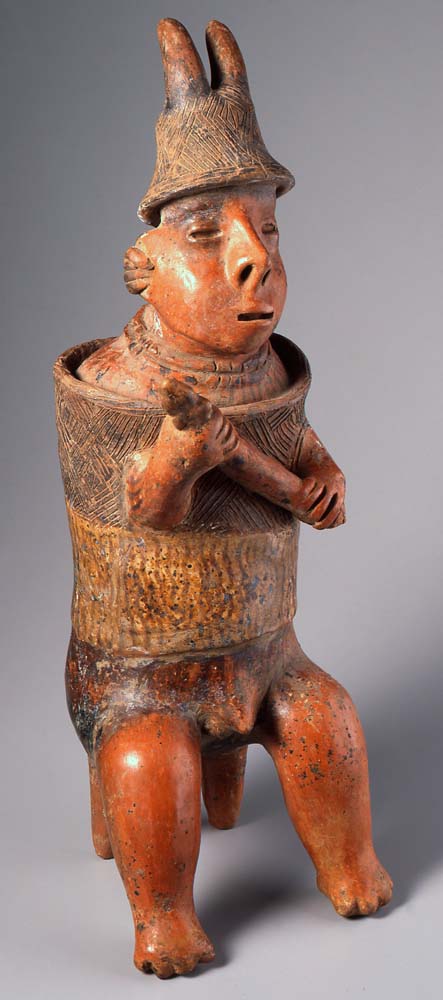 San Sebastian style; West Mexico, Jalisco, Warrior Figure, ca. 200 BCE/300 CE, ceramic and polychrome slip, Museum Purchase: Funds provided by the bequest of Dr. William Sargent Ladd, public domain, 50.75
This work is on view.
Title

Warrior Figure

Artist

Date

ca. 200 BCE/300 CE

Medium

ceramic and polychrome slip

Dimensions (H x W x D)

height: 22 3/8 in

Collection Area

Pre-Columbian Art

Category

Mesoamerica

Sculpture

Object Type

figure

Culture

Shaft Tomb Cultures

Credit Line

Museum Purchase: Funds provided by the bequest of Dr. William Sargent Ladd

Accession Number

50.75

Copyright

public domain

Terms

Place Made

Created in: Jalisco

Location
This seated figure confronts the viewer with his erect posture and forceful gesture. The two-horned helmet, protective armor, and mace identify the figure as a warrior, with his seated position portraying him as a man of importance. The warrior holds his mace at an angle, enlivening a composition based almost entirely on horizontals and verticals. The surface of the piece is highlighted with incised decoration on the headgear and top half of the armor and with painted decoration on the lower half. This armor, clearly central to the artist's conception of his subject, was probably based on a combination of basketry and textiles that covered the entire torso of high-ranking West Mexican warriors.