Yaozhou ware large dish with peony design

China, Shaanxi province, Yaozhou kilns, Yaozhou ware large dish with peony design, early 12th century, light gray stoneware with carved decoration under olive-green celadon glaze, Gift of Richard Louis Brown, public domain, 1997.192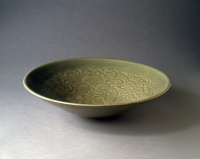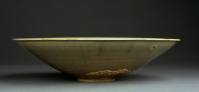 This work is on view.
Title

Yaozhou ware large dish with peony design

Artist

Date

early 12th century

Period

China: Northern Song period (960-1127 CE)

Medium

light gray stoneware with carved decoration under olive-green celadon glaze

Dimensions (H x W x D)

3 in x 12 in diam.

Collection Area

Asian Art

Category

Ceramics

Object Type

dish

Culture

Chinese

Credit Line

Gift of Richard Louis Brown

Accession Number

1997.192

Copyright

public domain

Terms

Location
Yaozhou ware is a type of green-glazed stoneware that was made in northern China from the tenth through the early thirteenth centuries. More uniform in appearance than their southern cousins, Yaozhou celadons have an olive-green cast due to titanium impurities in the clay. A kiln temperature of about 1250ºC melts the glaze into a thin covering that fuses with the body. The exuberantly carved designs on Yaozhou bowls, dishes, and ewers reveal these characteristics to great advantage, as the glaze pools at the contours of the relief patterns. Perhaps because it was land-locked in northern China, Yaozhou ware was not exported in large numbers.